SHOW REVIEW: Dave Attell w/ Doug Stanhope and Sean Rouse
June 18, 2005 - Roseland Theater (Portland, Oregon)
By: Alex Steininger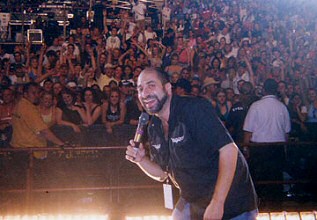 There is a funny thing about commercial success. More money for you, of course, wider recognition, yes, and, well, more people start showing up to your shows; a lot more people.

In the case of Dave Attell and his Insomniac tour, which hit Portland on June 18th at the 1200 capacity Roseland Theater, to a sold out crowd, his audience was filled with frat boys and sorority girls who don't regularly attend comedy shows. But man, oh man, do they love their Dave Attell. After all, he's the popular comedian on Comedy Central with his TV show, Insomniac, a show where he wanders around seemingly aimlessly going bar to bar, drinking, and meeting people. And any man that loves to drink and party that much and make a career out of it, well, he's the new idol for the frats and sororities.

But, the question is, does Attell's commercial success, and his new found fan base, take away from his show or his material at all?

The short answer is NO!

To prove this, Attell threw at his audience two comedians to warm up the evening: Sean Rouse and Doug Stanhope.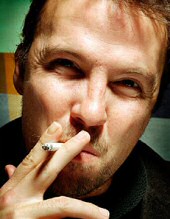 Stanhope, one of the funniest men alive today and, quite frankly, one of the crudest, stunned the audience with material that left them feeling more right wing than partiers. When Attell bought a shot for a solider whom just returned from Iraq. And then handed him a free copy of his CD to thank him for his service. Stanhope, mic in hand, quickly interjected that he too would give his CD to the soldier for free if he hadn't made fun of the soldier on it and believed he wouldn't be returning.
Simply put, the two comedians did their job, they warmed up the audience for Attell. Whereas, if Attell had lost his edge, he may have felt compelled to put on two average comedians to follow. But, fearless in his pursuit of comedy, he raised the bar high -- and came out strong.
Now, I could sit here and re-tell you jokes Attell said on stage, but as bad as my delivery is in person, it is worse in writing. And that wouldn't be doing justice to genius of Attell.
I will, however, tell you that he covered subjects from drug use to sex, Michael Jackson to religion, and, of course, excessive drinking.
Attell weaved through and intertwined subjects effortlessly; conversing on stage and pondering his own thoughts, as the punch lines ruled in and made the audience roar in laughter.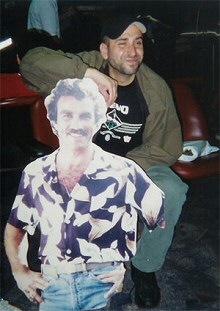 He connected with everyone like a friend, sitting around a table, drinking beers, poking fun at life's absurdities, and laughing off the hardships of life. Though, in his case, he was on a big stage, normally set aside for platinum bands touring the nation, playing to an audience that proves he's reached the pinnacle of comic success: a big tour, a hit TV show, and adoring fans.
Tonight was Attell's night. Taking nothing away from Rouse or Stanhope, people came to see Attell and hear his humor in the flesh, and they got more than they paid for. They got a man, his humor, his presentation, all in his presence, the laughter illuminating the room as he controlled their minds with precision.
Attell is a genius, my friends. He reached the top not by lucky breaks or knowing the right people (all things that probably helped, though), but by being funny, by being one of the best, by being himself. Fame and money has seemingly not changed him, or his humor, and tonight found him right on the ball.