Shy
Hollywood & Vine (SPV Records)
By: Vinnie Apicella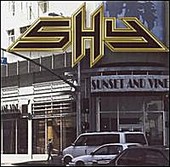 The talented UK rockers return again after their triumphant Unfinished Business from 2002, armed with ten more new tracks sure to bring tears of joy and more than a fair share of self-reflection. The promise that existed all those years still remains a driving force behind their purpose -- making music, writing catchy, memorable songs tied together with an AOR-fueled ambition that still sounds fresh. Shy was always a step beyond the atypical "glam" bands of the day and their individual playing talents and cohesiveness as a unit has never been more evident.

Hollywood and Vine opens with the flighty and very Journey-ish "High Time" signaling intent to get up and go again, and by the time the chorus kicks in, it's evident they'd never strayed far to begin with. The track fades into the next, "Open Your Heart," a chugging and charming six minutes of musical perfection from the building opening to the storming chorus filled with energy and urging in a way similar to how "Can't Fight The Nights" did as one of the better, if overlooked, tracks from the days of "Excess--" Afterwards are the catchy "Soul Searching" and the epic-length ballad "Where Is The Love," proving yet again Shy's ability to pull the heartstring without compromising the profundity. "You Could Be Dreaming" is of the harder rockin' variety while "First Love" and "I'll Be Home Tonight" recall the romance past and present, the latter opening with a tad more electricity than otherwise presented, and unfurling into a folksy grown up sing-along all married couples can appreciate. Sleeper hit of the record is the closer, "Slowly," which begins quietly enough before the emotional outburst strains through a surge of power chording and an adrenaline pumping chorus likening to "Talk To Me" from years back.

Since their return the band's music remains top-flight without much rehash, less flash and more fluidity, the songs deeper and more circuitous, yet each could command its own position atop the charts for a variety of styles ranging from hard rock to AOR to pop -- with a little luck and maybe a touch more mascara. Or maybe not, but the diluted sound possesses a very organic feel that reveals a real talent of a class band with a focus for the finer points and a knack for having fun. Tony Mills, England's answer to Canada's Rik Emmett, is still among the top-level vocalists that no one's ever heard of. Though the soaring high notes and keyboard drawn bombast of their middle '80s rise has been carefully tainted with a grittier mix, the quality ingredients of taut musicianship, perfected melody, and strength of character remain faithfully restored. Hollywood & Vine is Shy as they are today and what they have always been -- and few do it better.