Bluebottle Kiss
Come Across (In Music We Trust Records)
By: Bryan Bingold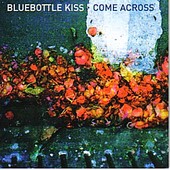 This Australian band choose the right album title. It perfectly represents the tone of the album. This album is a very inviting introduction to a band that has never had much success in the United States. Even the song structure reflect the album title, soft introductions that lull you over before exploded full force in your face with all the power and might that Bluebottle Kiss can conjure.

It took me a few listens to get into Come Across, but it's fast becoming a favorite of mine. And I fear that most American audiences won't wait around for a few listens. It's becoming harder and harder to allow an album to grow on you. Thank you, Clear Channel radio for bombarding us with instantly catchy songs, making it so that if a song or album doesn't capture our interest within a few seconds, it's tossed aside. But that is exactly Bluebottle Kiss' strong point: building into a very interesting and engaging songs. Which is why the Come Across, is such a wonderful title. Anyone traveling to Australia anytime soon should take the invitation and see Bluebottle Kiss on their home turf. You'll come back to the US praising this great band to a rattled, confused and continually AHDD populous.

For those of you who want song recommendations: "Sisters Head On" punctuates, "Everything Begins and Ends At Exactly The Right Time" explodes at exactly the right time, "Crawling with Ants" lumbers with an infectious bass line that requires a listening. Don't miss this opportunity to break out of the US music culture and discover a band that's immediately different but becomes more and more familiar with each listen. Remember what good music sounds like? Well, take a listen.