DVD: Cheers
The Complete Sixth Season (Paramount Home Video)
By: Alex Steininger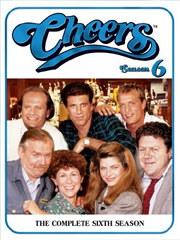 Ah, Shelley Long?s (Diane Chambers) departure and Kristie Allie?s (Rebecca Howe) entrance mark a new chapter in Cheers - Season Six.

What a much-needed breath of fresh air, too. It was clear that the relationship between Sam Malone (Ted Danson) and Diane Chambers (Shelley Long) was getting stale.

The writers had to think of something!

With the Chambers/Malone wedding off (Chambers standing Malone up at the alter), and Malone?s world travels over, he returns to Boston, to Cheers, to pick back up where he left off.

However, everything is different, it seems.

Rebecca Howe runs the bar like a corporation ? yikes! But, she does hire Sam back as a bartender, and in rings a new era of Cheers.

Now, there are many who are Shelley Long loyalists and some who prefer the Allie years. Both are equally great, in my opinion. But, unlike many sitcoms, Cheers managed to go many years with a major dynamic change, and Season Six showcases oh-so-nicely how this switch was flawlessly pulled off ? for the better of the show.

Yes, Season Six is a glorious season for Cheers with many memorable episodes. So, pick up this 4-disc collection and watch as Sitcom history is made ? and the show never looks back.

I?ll give it a B+.