Rakes
Rakes (Deer Lodge Records)
By: Alex Steininger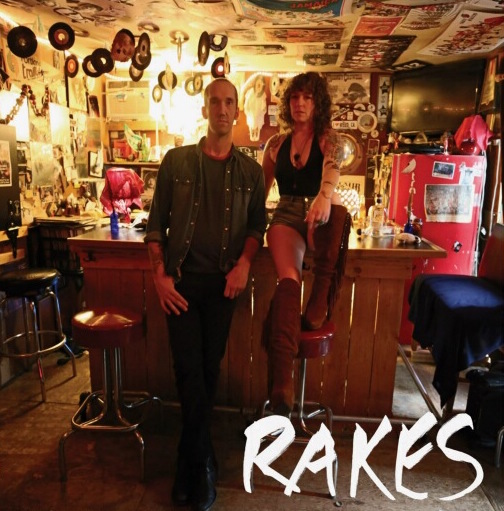 Out of Portland, Oregon comes the male-female vocal combo of Rakes, a five-piece rock act that is fronted by Chelsea Walker and Andrew Coursen Foster. Rounded out by bassist D. Rives Curtwright, drummer Tim Hanson, and keyboardist Jake Kersley, Rakes come alive on their eleven-track debut full-length album on Deer Lodge Records.

Opening with the guitar-driven rocker "Long Road," Walker and Foster's voices meld to a blistering melody, both coming at you hard and heavy, but fitting in perfectly together. It's Kersley's keyboards that add some depth and warmth to the heavy hitter. Whereas the bouncy "Dig Deep" showcases the melodic flare of the band, complete with a horn section that brings the song alive. Trading off lines, before coming together, it gives you a chance to hear each other's voice individually before they swarm in together.

The danceable ballad of "Stay With Me" shows the band can play slower, gentler, and with a sweeter melody, and still sound like the rock band they are. "'78" is another powerful rocker, driven by the backbone of the drums, and really hitting you when the chorus swoops in.

Another horn-filled number, "Dead Once Again" again showcases the band's ability to be poppy, bouncy, and still have that rock fire in the gut of the song. But, it's album standout, and the it's first single, "Sinner" that really puts Rakes on display. Hook-laden, driven, and catchy as all get out, this is the album's ultimate sing-along number. It finds the band crafting a rocker that can flirt with pop, but still be balls-to-the-wall fierce, without losing any of its immediately accessible charm.

Ending with the tender, guitar and vocals-only "Whiskey Woman," Coursen and Walker show a different, but equally poignant and grabbing side of the band. Emotional and biting, Rakes go out with a band, proving whether they're poppy, rocking, or tender, they can strike a chord with the listener and make you pause and pay attention.

A stellar, strong debut from a band that has all the components and power you could want in a rock record.