The Mistons
World of Convenience (Self-Released)
By: Alex Steininger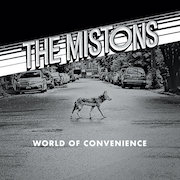 The venerable Sean Croghan (Crackerbash, Jr. High, Pynnacles) is back at it again with his latest band, The Mistons. On their debut, full-length album, World of Convenience, a twelve-track scorcher from start to finish, the duo (rounded out by drummer Micah Kassell) takes pages from the books of Northwest punk rock legends Dead Moon and The Wipers to deliver punk-fueled garage-rock that is as relentless as it is eye-opening.

Born out of the chaotic mindset of modern society, World of Convenience, like all Croghan's projects, pulls no punches, delivering music that is "non-complacent; questioning and searching the contemporary world, with hearts on their sleeve and a sneer."

Opening with the title track, a blistering punk rock powerhouse, Croghan doesn't mince words as he takes a stab at the current mentality of the majority. Followed by, "Concentual," a danceable garage-rocker, Croghan locks you in the groove and gets you dancing.

"MMH" is a blazing rock 'n' roll number, complete with Croghan's trademark snarl. "Let's Go" keeps the intensity and power up, while slowing the tempo down a bit. "Laverne," the midpoint of the album, showcases the band's gentler side. Though, even softer and mid-tempo, they still make sure the edges are nice and sharp, ensuring the song is equally as gripping as its faster counterparts.

The contemplative "What's In Store?" is dark and gloomy, coming alive with Kassell's fury on drums and Croghan's fuzzy, biting guitar.

"Follow That Creek" is the slowest, and longest track on the album, but that doesn't mean it is any less impactful. A slow-burning, brooding number that owes as much to the blues as it does punk rock, the meditative melody and airy feel of the song take things down a few notches, but still cut to the bone.

Ending with "Ghost Town," the band hits you hard with a mid-tempo rocker that doesn't lack on juice; equally as melodic as it is hard-hitting, "Ghost Town" closes out a memorable rock 'n' roll record that shows its Northwest punk roots and garage rock flare to deliver one of the year's best rock experiences.