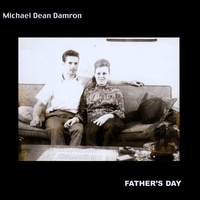 Tracks
1. Dead Days
2. Fatherıs Day
3. S.O.S.
4. Beautiful and Damned [free MP3]
5. Angels Fly Up
6. Dancing in the Moonlight
7. Tornado Song
8. I Hope Your New Boyfriend Gives You AIDS [free MP3]
9. Boy With A Car
10. Waiting Around To Die
11. I'm A Bastard
12. Playing Dumb
13. Scream
14. Dark LIttle Secret
Michael Dean Damron
Father's Day
Think Steve Earle, Waylon Jennings, and Townes Van Zandt. This is real-life country-rock-folk delivered by a man that has lived it, and isn't afraid to sing about it. Alt. country and outlaw country fans will really dig this.



On his third full-length, and second since the demise of his band, former I Can Lick Any Sonofabitch in the House front man Michael Dean Damron is back with another collection of soured-but-not-desolate tales of life on the dark side of town.

Entitled "Fatherıs Day", Damronıs third solo outing continues on down the path of his Steve Earle, Waylon Jennings, Townes Van Zandt leanings, paying homage to his musical influences, while making everything distinctively his own.

The anti-hipster, country-folk-rock sound of his songs are as real as they get: bloody on the knuckles, aching in the heart, and covered in regret, dismay, shame, and, optimistically, redemption and kindness. Itıs true, Damron pulls no punches and never holds his tongue, sometimes a word or phrase away from making you cry, while at other times a word or phrase into engaging, enraging, and making you think.

The title track sums up Damronıs outlook on life and the choices one makes: "Son, if you wanna go far, get yourself a good pair of walking boots. Theyıll take you where you need to be. Theyıll take you far away from me," a traumatizing chorus from a father to son about abandonment and finding new hope.

Damron later sings, "he died all alone, in a high Nevada dessert. Years of hard living made him paper-thin. He died all alone, God was not present. Wish I had been there to comfort him." It is with this that Damron pulls the song together and, like all his songs, takes all the hard-knocks of life and shakes them off with love and a longing for repair.

Always one for controversy, humor, and smiling through tragedy, the albumıs controversial track, "I Hope Your New Boyfriend Gives You Aids," is the story of Damronıs former drummer who, during a breakup with a girlfriend, screamed at her, "I hope your new boyfriend gives you A.I.D.S."

The drummer would later burn his bridge with Damron the same way he torched it with his ex girlfriend, leaving Damron to pen the sadly beautiful song, and shake things up with a title that would throw people for a loop, much like life does.

Showing love for Thin Lizzyıs Phil Lynott, one of Damronıs favorite bands and songwriters, a cover of "Dancing in the Moonlight" offers serenity and rays of sunshine to the albumıs otherwise bleak outlook. While his cover of Drag the Riverıs "Beautiful and Damned", offers promise and potential amongst doom and despair.

Never one to shy away from politics, Damron delivers one for the working poor, homeless, and poverty-stricken with "Angels Fly Up", a shot at those with money and power that horde it and continue on a path to hurt others.

With his gruff, world-traveled voice, weary eyes, and potent guitar, Damron pens some of the harshest looks on reality from a point-of-view he knows all too well. Whether its love, death, addiction, or every day struggles, Damron tackles them with knowledge and experience, ensuring his songs come straight from the heart, delivered irony-free and with plenty of sympathy and compassion for those that relate all too well to them.

"Fatherıs Day" is Damronıs most honest album to date. A record that is as much a piece of him as his heart is. Gut-wrenching, tear-jerking, with blood coursing through every songıs veins, here is a record that is a reaction to every white-belt wearing, tight pants hipster that dwells in cool factor instead of real life. Damron doesnıt care if you like him, like his music, or want to be his friend. He just cares about speaking the truth, standing up for those without a voice, and writing songs that, if you hear them and relate to them, offer you some solace and comfort.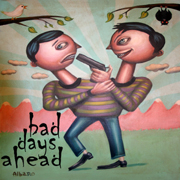 Tracks
1. I Love The Rain
2. By The Time I Get To Heaven [free MP3]
3. Bad Days Ahead
4. Swear To God
5. Hallelujah
6. Ghost
7. Moonshine
8. Andy Gibb [free MP3]
9. Best I've Felt In Years
10. Hotter Hell
11. Baseball Season Ends Early
Michael Dean Damron
Bad Days Ahead
With songs that tip their hats at his heroes (Steve Earle, Alejandro Escovedo, Townes Van Zant and Waylon Jennings, for example), Bad Days Ahead is an avalanche of brash truths and dark stories set to his own Americana landscape.



The truth can be a downright ugly and thankless business, but one that Michael Dean Damron takes great pride in conducting. As the frontman for I Can Lick Any Sonofabitch in the House, he spent the first half of this decade cutting his teeth on the finer points of delivering sermon-like epithets and exposing his own personal demons that has resulted not only in an impressive body of work but the art of truth telling, for better or worse. After 4 albums (three studio and one live), half of one in the can and a plethora of tours, Mike up and pulled the plug on Sonofabitch.

Somewhere in between, however, he provided us with a glimpse of what to expect after the dust settled. In 2005 he released a solo album, Perfect Day For A Funeral that gave some indication that he may have needed some breathing room. Now his restlessness is to come to a boil with Bad Days Ahead, his first post-SOB release with his new backing band, Thee Loyal Bastards.

Thee Loyal Bastards include Allen Hunter (Eels) on bass, Sam Henry (The Wipers) on drums and Morgan Geer on guitar, as well as Kelly Gately (Fireballs of Freedom) on guitar and Kristen Holovnia on cello.

In a market so over-saturated with singer/songwriters pressing to pimp their wares with watered-down musings, where mediocrity is often congratulated with heavily moved units and radio play, ?and whose climate doesnıt take too kindly to those who stand up barrel-chested in defiance to such, Damron has his work cut out for him. With songs that tip their hats at his heroes (Steve Earle, Alejandro Escovedo, Townes Van Zant and Waylon Jennings, for example), Bad Days Ahead is an avalanche of brash truths and dark stories set to his own Americana landscape. Like many of his songs prior, he has a penchant for targeting his subject with sniper scope eyes. The target most commonly aimed at on Bad Days is Damron himself. "Iıll show you, baby, how bad I can hurt myself", he snarls on I Swear To God, a bruising number about his divorce. It seems Damron has picked enough bones to open his own graveyard and Bad Days Ahead is a well honed viewing of the bodies he has buried.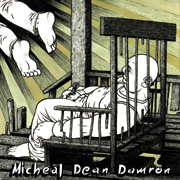 Tracks
1. Little Girl Blue
2. Spit [MP3]
3. A Perfect Day for a Funeral [MP3]
4. Pot To Piss In
5. Montana
6. Girl In A Box
7. The Cape
8. Blame It On the Whiskey [MP3]
9. Outlaw Song
10. Miss Amphetamine
11. New Paint
Michael Dean Damron
A Perfect Day for a Funeral

Michael Dean Damron's debut solo record, "A Perfect Day for a Funeral", is full of love and hate. With some of the Northwest's best players (in the blues, folk, and country scene), Damron has created a soulful, rich collection of melodic, intimate songs that give you a deep look into his psyche.

For those familiar with Michael Dean Damron, (also known as Mike D., front-man for the political rock 'n' roll outfit I Can Lick Any Sonofabitch in the House), "A Perfect Day for a Funeral" is a long time coming.

Engineered, mixed, and produced by accomplished producer Lewi Longmire (Jackie O-Motherfucker, Kevin "Bingo" Richey, James Low, Little Sue, and the Freak Mountain Ramblers), "A Perfect Day for a Funeral" finds Damron singing about what he knows.

Whether he's singing about the he collapse of his first marriage, angrily, in the title track. And embracing new found love on the ballad "Montana", or discussing racism and murder on "Spit" (a true story about Damron's friend Lin "Spit" Newborn, the first social activist killed on U.S. soil in thirty years). He's always singing from the heart, speaking his mind - and pulling no punches.

Then, on "Blame It On the Whiskey" he tells the tale of a man who had it all and, through drugs and alcohol, loses it, while "Outlaw Song" is a song reflecting on Damron's inner demons, sometimes wishing he was never born.

"Miss Amphetamine" is the only rocker on the album, a back-porch, Southern-friend blues number.

Ending with "New Paint", the organ's and Damron's voice seem optimistic, but the lyrics proclaim "There ain't no new paint that is gonna change what's been done, 'cause what's done is done". Still, he makes you feel as if the past is behind you and helps you move forward.

The music is beautifully crafted, and rather relaxing (compared to Damron's rock alter ego). However, the lyrics are just as biting as Damron's other work. When all is said and done, Damron's first solo record will quickly grab you and become one of your favorite records of the year. It's a beautiful blend of country, folk, soul, and blues music that show the rootsier side of Damron.

Michael Dean Damron's MySpace website: http://www.myspace.com/michaeldeandamron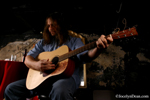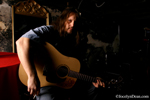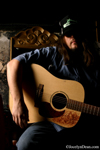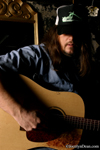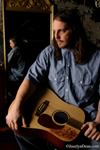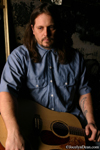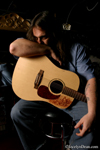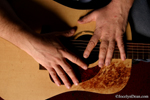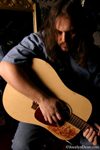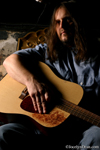 ALL PHOTOS BY: Jocelyn Dean for Jocelyn Dean Photography
FRIEND OF MICHAEL DEAL DAMRON: Lewi Longmire's CD - engineer, mixing, and producer of Michael Dean Damron's "A Perfect Day for a Funeral"