All
Mass Nerder (Epitaph Records)
By: Alex Steininger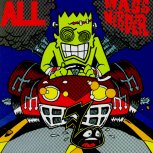 Think Descendants! Now, minus Milo on vocals and replace him with Chad Price. Now you have ALL. The same people play guitar, bass, and drums, the sound is similar, and the only thing different is the vocals. Coincidentally enough, they still blast out catchy pop-punk with humor as well as seriousness.

With a title like "World's On Heroin" you know the song will be a bit, shall we say, bitter. And sure enough, with lines like "The world's on heroin, too many lazy morons in my face" and "I'm a coffee guy in a stronger place, and the world keeps turning at a turtles pace," the song confirms the bands' feelings toward the slow and 'moronic' people of this world. The lyrics are mighty interesting, and make the song what it is, but the music also plays a vital part. Fast, yet clear, vocals are set a top the buzz of the guitar, hard hitting bass, and lots of drums. What's more, just like the Descendants, ALL is able to slip in some nice hooks to sub-consciously keep you listening. "Life On The Road" tells the horrors of touring, yet how fun it is, in thirty seconds. Pure punk, fast and hard, this number gives the listener a different taste besides their pop-punk styles that are more common on the album. "Greedy" is another quick punk ditty. Forty six seconds is all this song needs to blast the people who say they're not "greedy," yet love material things, or even smaller items like bread to eat. Back to some more pop-punk, "Until I Say So" leans a lot more to the power-pop side of things, rather than harsher punk melodies. The chorus is tight, and very melodic, catching you in a moments notice, while the verses are just as tight and addictive. A well-composed number, the band seems very comfortable leaning towards the pop side of things, but as previous tracks have proven, they also handle the straight punk pretty easy too! "Silly Me" leans a little more to the punk side, equating to an equal mix of pop and punk. Just as catchy, and just as tight, this number will have you singing along in no time. And even if you have troubles picking words out of songs, don't worry, because they give you lyrics. Yes, all the more fun. "Vida Blue" just keeps the music coming, throwing another catchy ditty your way. Closing out with "Silence," another tale of love gone bad, but with a catchy beat behind it.

Even with a different vocalist, these guys still sound like the Descendants, which is good. This CD is just as infectious, and has the right combination between pop and punk, so if you like the Descendants (or are an ALL fan) you know you'll love this disc. I'll give it an A-.