All
Problematic (Epitaph)
By: Alex Steininger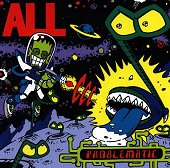 The champs of pop-punk are back with Problematic, their latest offering of fast, catchy, and highly energetic beats that will find you bouncing up and down in glee. If you've grown sick of all the pop-punk shit out there that sounds exactly like all the rest, check out All. Though their songs aren't groundbreaking in any way, and fuck, even All sounds all the same album to album, they do it so darn well you can't help but smile whenever you hear their bright, shiny hooks crashing up along side you with punk force.

All can afford to sound the same album to album. They've been everywhere, done it all, and been around so long, their fans know and love their trusted sound. If it ain't broke, don't fix it. All knows this and deliver the goods. I'll give this a B+.