Godhead
Power Tool Stigmata (Sol 3 Recordings)
By: Alex Steininger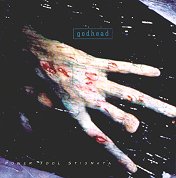 A Washington, D.C. four-piece, Godhead fuses the lighter side of industrial and goth to form their own, technical sound that is not heavy, yet is not light. It has the feel of techno and rave music, yet it is more complex than that. POWER TOOL STIGMATA serves up fourteen tracks, for a total running time of nearly an hour.

With a lot of industrial music it's about how intense you can get, how much noise you can pack into one big punch. But with Godhead it's about how crafty and technical you can get, how far you can go into your musical influences without spilling over into one particular genre, and how much pain and anger you can create without sounding the part.

With this album they do a good job of all of the above. The lighter side of industrial, with gothic tendencies, the music separates itself from any stereotypes these two genres may hold. The music would best be described as techno-dustrial, as it has the feel of an industrial band working with some friends in a techno band.

The lyrics aren't the greatest, although they do a good job of trying to be deep, and avoiding any superficial cliches. Take "Fucked Up" for instance. The song is so soft and dark, with the haunting vocals behind the words, anything could be spoken and it would sound poetic. But instead they put some effort into the lyrics and make them good, instead of just shoveling some garbage on top of the music. Then there is "Bleed," which has a powerful techno-dustrial beat behind it, making it hard for them to just pass off any words without making the song fall flat on its face. But they are able to create decent lyrics to go with it, making it a well-rounded song.

As a whole, this album is pretty good. Avoiding many cliches and stereotypes, Godhead is definitely a leader in their sound group. I'll give this disc a B+.