Kelly Price
Soul Of A Woman (Island Black Music)
By: Slyvia White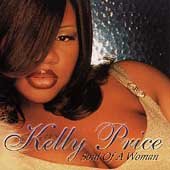 There are women who can sing and then there are women who can SANG! Kelly Price is truly from the breed of the latter women. This lady has pipes that vibrate and hum even when she speaks. A former session singer for the likes of Sean "Puffy" Combs and Mariah Carey, Kelly has now come into her own. On her 13 track album entitled, "Soul Of A Woman" we R&B fans get the treat of hearing a "real" singer lending to her craft and the genre. With strong gospel roots that are evident and clear, her vocal range and ability to "blow" make her into an instant diva! With a good number of her tracks written and produced by her, she has something over many singers who come into the field as just a singer, Kelly is making herself into an artist.

On her first released track, "Friend Of Mine", we hear Kelly showcasing what is becoming a voice of a true singer. Strong baselines and even stronger vocals make this song a hit. "Secret Love" gives Kelly her chance to get smooth and groovy, it's beat and strong instrumentation will make this a hit once it is released. On "Don't Say Goodbye", she is more mellow, not overly boisterous. A subtle Kelly and even with her more subtle moods she still packs a punch with every chords. Here is her ability to give without giving too much.

On "Kiss Test" we hear a bit of a Hip Hop edged baseline, another nice one. "Soul Of A Woman" borrows from Tony, Toni, Tone's, "Whatever You Want" with it's melody. Though there are pretty vocals on this track, it still makes me wish for a different selection of background tracks, the beat itself becomes a bit repetitive. It does not draw me in as I know it could have. "You Complete Me", a duet, is a good, easy to listen to track with good vocals from all sides. "Her", a ballad that oozes pain and soulfulness forces the listener to ache along with Kelly. Her delivery and rich vocals are at their best here. "Take Me To A Dream" is another wonderful ballad that is done with finesse and simplicity. Though she could have gotten more dramatic with her delivery, the strings and chords still make this one of the prettier songs on the album. On her only gospel tribute on the album, "Lord Of All", Kelly reaches to those gospel roots to belt out a tribute that makes your hair curl! This is Kelly at her soulful best!

The album as a whole gets a strong 4, verging a 5 from me. Though the album is good and her vocals are magnificent there still seems to be something missing. I personally would love more heartfelt ballads but her vocal ability alone can carry her through any rough patch there may have been. She is a phenomenal talent and a true diva! There is no comparison from these new school girls as to who is who and Kelly is taking the lead when it comes to being a real artist with a true ability to be a Singer amongst those who just sing.