Kelly's Heels
Gone Off Pop?!? (Kelly's Heels)
By: Gary "Pig" Gold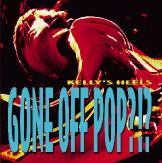 Fast, frantic, and nothing but Fun Fun Fun --I mean, just listen to that tambourine alone flail throughout the opening burst, entitled "Sabrina"! Yes, this British combo has taken all that its country's past masters have had to offer (namely the melody of the Sixties injected with the mayhem of the Seventies) and condensed it directly down into these here thirteen rough gems.

For example, "Don't Get Me Started" pits the Searchers against the Sneetches, whilst the great ghost of Sal Valentino hovers above "It Wasn't Me, It Wasn't You" and the terrifically B. Brummelly "Forget You" most ideally. But it's really when these guys kick back and relax somewhat, giving the arrangements a chance to breath and the lyrics room to resonate, that things really do come perfectly together. I speak mainly in this category of "Nothing's Right," the brightest bit of pure pop, gone-off or otherwise, I've heard in quite some time (--well, at least since The Nines that is!)

Add a tad more keyboards here and there and curb the adrenaline somewhat and Kelly's Heels would I'm sure present the even-better album I just know is lurking beneath the very-well-intentioned ultra-bravado.