Kelly's Lot
Test Drive (PK Entertainment)
By: Alex Steininger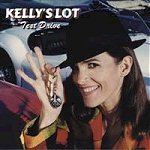 Kelly Zirbes and her band, Kelly's Lot, combine blues and folk, along with some genuine bar room rock, to come up with a sound that is lively and wild, while also honest and sincere. One thing that you can always say about the music is that both the band and Kelly put their heart and soul into every song. Even though this CD has its ups and downs, it maintains an energy level within the band that helps keep them together regardless.

The music itself sounds like that of a band you'd hear walking into some unknown bar with some unknown band playing their interpretation of bar rock. The blues riffs go flying, the sweaty, beer-drenched rock attacks always present, and the band having the time of their life regardless of what the crowd is doing or thinking. But, what helps propel this band above and beyond the thousands described above is a genuine appetite and a folk infusion that allows them to shake things up a bit and stay out of the repetitive region.

The album has its ups and downs, but they are at their best when they settle into folk/pop-rock like on "Just You." Soft and introspective, while also possessing a rock kick and pop hooks, the band is able to keep you on your toes and wait eagerly for the next hook to come flying your way.

There is some good stuff on here, and there is some stuff I couldn't swallow -- and stuff in between that I liked to an extent -- but the eclectic, yet all-in-one sound made me listen to them a few times before I really made a decision on what I thought. I'll give this disc a C.