Sparkle
Sparkle (Interscope Records)
By: Slyvia White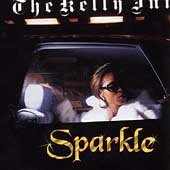 R. Kelly has hit the R&B scene with a new pupil under his production wing and he is crafting her into the next diva of urban heartfelt music, ranking her among the current holders of such titles, Faith Evan and Mary J. Blige. Sparkle, the latest personal endeavor of R. Kelly has come to the music scene with an album that is worthy of attention and a bit of praise. This crafted piece of music flows without effort, much ease. Her self-titled debut release is a mix of R&B/Soul with bits of urbanized Hip Hop. From track to track the entire album flows well, one song into another. Sparkle's modest vocals that hum soul and sorrow make this into a well-balanced "sista-girl" album. Most songs are along the same lines in terms of message, for some reason she seems to either be breaking up with her man or else simply leaving him.

There is soul and anguish in her delivery and Kelly's phrasing. The lyrics he chose for her to give life to are what we all have felt, making him into one of the best male R&B writer/producers out today. On the 15 track album there are many highs, in fact, I have yet to find a low. On the lead off track, "Good Life" we see Sparkle get a little help from the Hip Hop world from the likes of newcomer, Cam'ron and Nature. It is a very smooth jam and a sure head nodder. "Time To Move On" my favorite, and her second release is such a really well developed track. It encompasses an almost infectious baseline and groove. Her smooth delivery and crisp phrasing make this a sure fire hit! On "Lean On Me", Sparkle gets into the field of her diva rivals, Mary J. Blige and Faith Evans with a song that is strangely reminiscent of Evans, "Soon As I Get Home", it is Sparkle at her more tender delivery.

On the track entitled, "I'm Gone" we hear a slow crooner in the R. Kelly tradition of honest lyrics and general ability to create soulful woe. It is here we hear the Mary J. influences and the 'hood troubles of a woman tortured. Another sure hit! "Turn Away" is her at her most lovelorn. You can hear a more mature sound and it gives a down and out feel to the listener. On "What About", another favorite of mine, Sparkle is at her heart broken best. She truly pulls you in on this track about not wanting love to go and dishing reminders to her man of all the "what abouts", there goes those honest lyrics again, this one definitely is what soul music is all about.

The first release off the album and the already ghetto-fabulous classic, "Be Careful" (duet w/ R. Kelly) is haunting, from the lyrics to the vocals that stay and linger. This work alone showcases exactly why Robert Kelly is destined to be one of the best Rhythm and Blues of this decade. FABU! On the only remake of the album, "Lovin' You", a Minnie Ripperton classic, we hear Sparkle's ability to have range as a singer. This remake does not add anything to the song nor does it reduce it's former appeal. "Straight Up", the flutes and pipes add to the ease of this melody. Another heartbreaker, only this time around Sparkle is telling her man that this time she is leaving him for another. Very Nice!

The entire album gets a strong 5. From track to track this album truly flows with ease and grace. Sparkle is about to make a name for herself within this genre of R&B/Soul along with some already placed mature melancholy divas. Her soft and natural vocals and with the backing of R. Kelly she is bound to shine as bright as her name. Grab a copy R&B fans, it is worth it!