Apocalypse Theatre
Cain or An Open Vain (Hollows Hill Sound Recordings)
By: Alex Steininger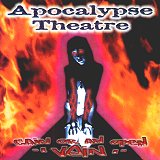 In the slum area of Washington D.C., at the beginning of the 90's , the environment was perfect for the seeds of Apocalypse Theatre to be planted. Coming to life in a rat infested building, their gothic roots were beginning to grow. Going through several members, while supporting different independent releases, they took their show on the road and began to call it home.

While known for their live shows, and as I understand it they are quite electrifying, CAIN OR AN OPEN VAIN seems to lack the energy, intensity, and life that prevail with their live shows.

The songs get off to a good start, but just when you really think something strong is going to happen they begin to aimlessly stroll around their music, covering paths and tunnels that have already been tracked upon.

Even during their more energetic times they still seem to be hopelessly lost and searching for a spark that will propel them into the next song.

Sometimes the music is great, but the vocals don't blend nice enough with them, rendering the song helpless. Yet sometimes the vocals are right on the money, but the music is a dull and half-hearted attempt at injecting the album with something that will catch the listener's ear.

Either way the go, they never seem to stay focused and really conjure up an appealing number that is solid from all angles. Passing by without even a blink of the eye, you'll turn around to try and remember if you ever hit the play button in the first place, realizing you did and wondering where the time went.

They even do a cover of Cindy Lauper's "Time After Time." Talk about a bad cover. After hearing this song I was longing for the original. They sent this song to the butcher, who then overly used a meat grinder on it.

This album just didn't have any real substance to it. After trying, and trying, every time I listened to this album I wanted to take a nap. Without any real though, this album will just blend into the background noises and tune you away from it. I'll give it a D-.