The Weaklings
The Weaklings (Junk Records -- PO Box 1474/Cypress, California 90630)
By: Alex Steininger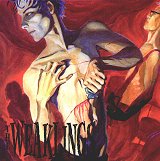 A five-piece garage punk-thrash band from Portland, Oregon, these guys are loud, loose, and very sloppy (in a good way). They know how to keep the music at the edge, while still making it sound as one. Sometimes too fast and loud for you to make out the song, one thing is for sure, they never have a dull moment.

Keeping in line with the Ramones theory that a song should be three minutes or less, The Weaklings longest song, "Star Fucker," clocks in at three minutes and twenty-five seconds. And that's long for the band, with the average song being a minute and forty-five seconds.

Their shortest composition, "Damned For All Time," is a mere fifty-four seconds. This should give you a solid idea of how much 'spit-on-you' punk rock they cram into each little morsel.

Going back to "Star Fucker," the song is a brutal mix of hard-edged, gutter-guitar drenched punk. They do manage to slip in a bit of the '77 style sing-a-long choruses too, paying tribute to their Ramones influence once again. But don't think for one minute they're pop-punk in the vain of anyone, because they're not. Just like "Star Fucker" is loud and obnoxious, allowing only a few seconds here and there for the band to start getting the crowd to shout a long with them, the rest of the album is the same way.

"Grow Up Gurl" opens the album and wastes no time getting into the core of the music. No beating around the bush here, they crank up the amps, churn out the thick guitar buzz, and pound out the rhythms that will break your back or become your friend, depending on what position you approach them in.

Continuing down the line, "Fool," "You Blow Me Away," and "The Holiday Dept." keep the fury coming, cranking out hammering blows every where you look. The vocals are always fast, spitting out the words almost faster than humanly possible. Trying to keep up, the bass, drums, and guitars join the race and rocket through each number nicely together.

Twelve songs in all, this album is not for the timed. If you're looking for something that puts the word aggressive to shame, this might just be the punk rock record for you. Never, and I do mean never, a rest throughout the album, when you pop this in expect to be bitten for the whole twenty-two minutes. I'll give this disc a B.