The Weaklings
Just The Way We Like It (Junk Records)
By: Alex Steininger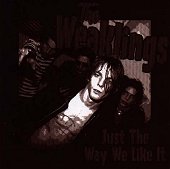 Rock 'n' roll isn't dead, neither is punk rock. And a testament to this fact is The Weaklings' latest, JUST THE WAY WE LIKE IT. If rock 'n' roll is supposed to be care free, unpretentious, loose, wild, bloody, and beer-soaked mayhem, then they've nailed it to the tee and surpassed everything ten fold. Sex, drugs, and rock 'n' roll, this band can put the excitement of it all into a blistering song...or, eleven for that matter.

"Ain't Got No Skin Left" is the song that starts it all off, and the song that, once heard, will guarantee you never look back and strap yourself down for the ride. The raunchy, dirty punk rock urges run wild through the song as the charged, powerful rock 'n' roll fuel ignites. The vocals are uncontrollable and spit out boisterous, raunchy lyrics to accompany the music. "All The Way, Evernight All Day" tells the tale of an egotistical rocker living out his rock 'n' roll dreams, screwing women, and talking shit. "Did Nothin Wrong," on the other hand, is a the sad reality of being in a band, going through musician after musician before you find the right line-up. "Forty-nine members still singin the songs/ People don't know why I don't just move along," seems to sum up the song nicely as the band lets the music guide them and allows time for nothing to get in their way and stop them.

Other songs like "It's So Criminal," "Just Gettin' By," "Burnt Bridges and Broken Dreams," and "Hot Cars, Strip Bars, Rock 'N Roll" all keep fueling the fire as the intensity keeps doubling and the drive becomes wilder with each song. No matter what you want out of the disc, you'll find it here. They'll kick your ass, make you sweat, and give you a good time; this is rock 'n' roll at its purist.

Portland, Oregon's The Weaklings seem to have nailed what carefree rock 'n' roll is all about: they're not preachy, they don't give a fuck, and they're not afraid to piss off those you aren't in it for a good time. They're wicked, wild, and crazy, and nobody can stop them now. But, anyhow, why would you want to? I'll give this album an A.