Buck-O-Nine
Pass The Dutchie (TVT Records)
By: Alex Steininger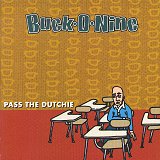 In between their debut full-length for TVT Records and their forthcoming follow up, Buck-O-Nine has released another pop-ska-punk treat that will keep fans content until their next album. Featuring re-recorded versions of "Pass The Dutchie" and "28 Teeth," both off their debut for TVT, this album also contains four outtakes from the 28 TEETH sessions.

Starting off with their Musical Youth cover, "Pass The Dutchie," they expand on their first release of this song, composing a tighter number with twice the energy. The pop is in full effect, while the punk and ska make equal appearances. Starting off with some slow pop-ska, they slowly build to the peak, quickly slamming some punk into your face and making you take a step backwards. Then they turn up the heat on the upbeat and bring forth a piping hot ska taste that is impossible for your feet to ignore. Finishing off with some pop/reggae/ska, they end just like the began...calm and easy-going. The self-titled track to their latest full-length, "28 Teeth (The Hot Party Mix)" takes on some major cosmetic and mental changes. The lyrics have changed significantly, while the melody has been toned down a bit as well. Not as powerful or catchy as the original, it does offer up a good upbeat that will get you dancing somewhat. The pop essence is still present, as you will find yourself more than once singing along. But where as on the original track you were singing along and digging the music throughout, this one finds its memorable spots hiding between some fairly decent beats, which seem to drag them down a bit. As a whole, it's good song, but the 'hot party mix' label just doesn't live up to the expectations the original will cast on you. Next up is "Dear Anna," a pop-punk number that will soon become the couch-anthem of every angst-driven, suburban teen. "Anna, we could watch the sunset, if it wouldn't interfere with my programs next year" and "I'm on the couch and I'm watching TV. Now I know why you had to leave," help make the song prevail as both an innocent and fitting description for the youth of today. Ending with a pop-swing-ska number, "Rock At Billy" is the fantasy of every elementary and junior high student who wants to take the playground bully down. A story of Billy finding a gun and shooting Big Jim, the neighborhood bully, this song will easily find it's audience with every tormented kid who listens.

Although an album of outtakes, it still has a lot of Buck-O-Nine's trademark blend of pop and ska. Infectious and danceable, their teen-angst'ed minds are able to write songs that find their audience all-too-well. I'll give this EP a B.