The Toasters: Pioneers of the Third Wave Ska Sound
By: Alex Steininger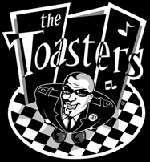 Ska has seen its popularity rise and fall three times now. The first 'wave' was when The Skatalites fused several styles of music, including jazz, to create what is now known as traditional ska (the predecessor to reggae). From there, the kids of England adapted the 'ska' upbeat to fit a bouncy, danceable form of music labeled as two-tone ska.

A big fan of English two-tone, as well as traditional ska, Rob "Bucket" Hingley decided to bring the music he loved to the U.S. -- Which, despite its popularity in England, was barely felt in the states. Calling upon others who had the same musical vision as him, Bucket was able to form one of the United State's first 'third-wave' ska acts.

Eventually calling themselves The Toasters, Bucket and crew fought long and hard to turn the public onto ska. Starting a record label (Moon Ska Records) to help push the music he loved so much, it was an uphill struggle that has finally seemed to pay off. Fifteen years of hard work and sacrifice have now put the band at the top of the ska world, releasing seven full-length albums on Moon Ska Records to an ever-growing fan base.

"Well, for better or worse, the band has a high turnover rate. Members come and go, so that is how we're able to bring something new to each album," says Bucket, eating curly fries while setting up the merchandise table during sound check. "Each time we bring in someone new, they bring something different to the band. There are a lot of influences and a lot of different styles fused into our sound."

With their latest album, DON'T LET THE BASTARDS GRIND YOU DOWN, making waves on both CMJ charts and M2, The Toasters just seem to keep getting better and better with each album. Not surprising, they've decided to take some time off from recording and writing, in favor of just playing live shows and giving the fans a chance to hear the music alive and breathing.

"We aren't going to rush into the studio to record a follow-up to DON'T LET THE BASTARDS GRIND YOU DOWN. We don't want to do that. We are, however, going to have a live album out in February. It's from a live show we did in England. You can get it from us at our live shows, but it won't be in stores until February. But, other than that, we'll probably take some time before we start recording a new album. We'll tour and play live shows, as always, and possibly get back into the studio around the summer of 1999."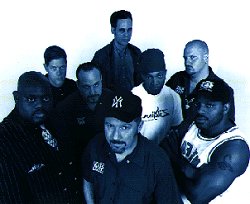 Playing 2,500 plus shows, The Toasters have honed their live show into an energetic, sweaty spectacle that is sure to both stun and please fans. Of course, touring is what The Toasters love to do. In essence, the road is their home. One tour after another, they manage to put themselves back on the road -- all to please their fans.
"There are countless road stories I could tell. We've toured so much, and had so much happen, I could just talk about that for hours," Bucket replies when the conversation turns to touring, life on the road, and the life of musicians. "Touring is fun, though. We get to meet a lot of great people, and play our music every night. It's my life. Not a wealthy one, but it's my life."
Of course, there are those that believe once you release a CD and tour with your band, you'll instantly become rich. Under this definition, The Toasters should be rolling in the big dollars. But that is the farthest thing from the truth. "You know, I hate musicians. I can't stand most of them. They all think they're so big up on stage, almost untouchable. They think they're gods and deserve special treatment. I can't stand that. They need to get a clue. That's something I hope you don't feel when you're talking to us. We [The Toasters] try to be down to earth and talk to our fans, because they're the ones that make us who we are as musicians."
Being a record label owner himself, Bucket is able to put another spin on the story. "You know, right when the band puts out a CD they expect a bunch of Brink trucks to roll up to their house full of money. And a lot of times they don't want to tour. That's not the way it works. There is a direct correlation between bands that sell CD's and bands that tour. A lot of these bands think that just because they're in a band, they should be fucking rich rock stars. That's another reason I hate musicians. I just can't stand being around that part of it."
When money is involved, things always get a bit complicated. And when success and jealousy intertwine, backlashing amongst 'scenes' can get really out of hand. "The Slackers can kiss my ass. You can print that, too. Vic thinks we owe him money, but I invite him to come check out all our invoices -- we keep records of all that stuff, we are 100% legit -- and try and explain why we owe them money. We gave them so much product to sell at their live shows, and they never paid us for it. And until they pay us, we're not going to pay them the money we owe them. Of course, the money we owe them is less than the money they owe us, so it doesn't make sense for them to pay us back to get the money we owe them. My son is five years old, and he knows three is bigger than two. If Vic could do the math, maybe he wouldn't open his mouth so much."
When it comes to business, Bucket and Moon seem to be fair. "We are an artist co-op. That means, we split the profit of albums 50/50. On top of that, we pay all the bands their mechanical royalties. Look around, I bet you won't find deals like that at a lot of other record labels. We just want to put out music we love, and help the bands we enjoy," offers Bucket on Moon's business practices. But, one thing they won't stand for is people trying to rip them off. They started the label, and still run it, for the sole purpose of helping out bands they love. And when bands take advantage of their kindness, anger is an easy way to put how they feel.
"I don't know, why do you think people either love the Toasters or hate us," responds Bucket after I ask him the same question. Maybe it's jealousy, or maybe people just can't handle the self-made success The Toasters are finally achieving. Who knows? But, on the same note, who cares? As long as the Toasters are able to re-fresh, and regenerate themselves album after album, as well as put on amazing live shows, there will always be fans willing to pay to enjoy their art.