FEATURE: To Catch A Falling Star
By: Gary "Pig" Gold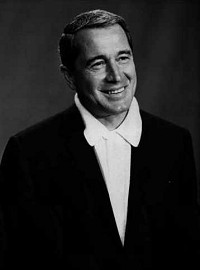 Wit duly sharpened and tongue even firmer within cheek than usual, I treated the Sunday New York Times news of Perry Como's death as little more than an excuse for yet another funny-if-informative column. Yet exactly as when I polled pals-o-mine regarding that Pat Boone feller awhile back, I was somewhat taken arrears by the vast amount of overwhelmingly heartfelt -- and uniformly quite positive -- views and remembrances of the man, by both fans and peers alike. You just can't judge a crooner by its cardigan, as I guess the saying goes.

And so I've decided to keep myself out of this month's proceedings as much as possible, in order to present a mere sampling of the kind words received in response to my "Have you anything to say about Como?" query. Then, when all is truly said and done, perhaps we can simply agree to agree that there quite possibly isn't that very much of a gap after all between, for example, Power Pop and Perry's pop.

from R. Stevie Moore, perhaps the only person ever to work with both Kramer and Como:
"Como was way cool. Always. In my book, the novelty songs gave him the edge, though it's said his legacy is forever tarnished because "he'd record anything anybody shoved in front of him." But us Fifties kids actually really dug the silly "Papa Loves Mambo"s, "Catch A Falling Star"s, "Hot Diggity"s and "Juke Box Baby"s. His TV show was seminal. He somehow stood out from all the other crooners, methinks. Rest in Peace, Per. And don't let the stars get in your eyes ...pere ubu."

My only thoughts: Perry Como and Eddy Arnold were both important in balancing the artsy crooning of Bing and Frank with a more manly chart presence. Just as David Bowie needed Slade and Chuck Berry had to answer to Pat Boone, Como provided a populist setting for the perpetuation of many great songs. Plus, Como didn't go on to host a smarmy talk show, and he had the funniest line when Bob Hope did a great "Star Wars" parody during one of his NBC specials. A fat woman was playing an alien, and it was scripted for her to break character and run over to Como as a big fan. "Hug me," she screamed. In response, Como sang, "It's impossible..." He couldn't keep a straight face, either.
(J.R. Taylor, "New York Press")

Unlike most adult contemptuous crooners afraid for their careers with the advent of Elvis, the Perryman embraced rock by having the Everlys and Fats Domino on his show, even though Mr. Saturday's idea of "rip it up" usually involved a packet of Ovaltine. Even though Como released records with kiddie names like "Hot Ziggity" he resisted the urge to rip it up until 1961, when he released "You're Following Me," written by Burt Bacaharch, the same man who scribed "Magic Moments." With no Top 20 appearances since the "Magic Moments" era, Como decided to embrace the new rockin' sounds. Someone must've put something particularly strong in Como's Ovaltine that session, causing him to sign off on uncommonly loud bass, drums, Scotty Moore-ish guitar leads and maniacal "sha da da"s from background singers who sound like they were hijacked at gunpoint from a Bobby Rydell record.
While the authoritative finger snaps that open the song might make the Jets and Sharks jump into rumble stance, having Mr. C. make like the Fonz with lines like "When I've got the time I'll slip you a kiss" must've had the kids doubling over with laughter. Still, it is a lot more rocking than the substandard material Como's labelmate Elvis was releasing with frightening regularity by this time.
After that, he gave himself fully to somnambulists and sweater wearers everywhere. He'll be missed, when we realize there'll be no Christmas specials from Serbia.
(Serene Dominic, "Phoenix New Times")

He lived to be 88 and seemed a pretty centered guy, so good on him. Seems like it all worked out.
(Adam Marsland, Cockeyed Ghost)

Well, part of the tragedy of guys like Como is that his brand of good, tuneful, light pop ("Magic Moments," "Round And Round," "Catch A Falling Star"-- even 1970's sunny "Seattle") is all forgotten and dissed, simply because it wasn't "rockenroll." Yeah, we all dig rockstuff, but this behemoth/juggernaut -- composed of music, marketing and a whole cultural aesthetic -- has an uncomfortably fascistic bent: ie, it mows down everything else. So, Como's (admittedly modest but surely pleasant) accomplishments are lost to future generations, as are Herb Alpert's TJB, Jack Jones, Pet Clark's post-"Downtown" stuff, Mancini's Top 40 hits, et. al.
(Gene Sculatti, Director of Special Issues, "Billboard" Magazine)

I have some thoughts about his death:
I *thought* he had already died some time ago.
I *thought* his song "Round And Round" wasn't as good as my song of the same title.
I *thought* the law and the law won.
Actually, in truth, Perry Como once gave my father a monogrammed money clip (my father worked on Perry's old television show ...not his 1980's show "Perrysomething.")
(Michael Lynch, fufkin.com)

it's impossible
ask a baby not to fly
a life without perry como?
now who's schedule will mick jagger look at to see if he is too old to tour?
(Peter Noone, aka Herman, winner of VH1's "Viewers Choice Award" Sexiest Pop Tart 2000)

I was reading a Brian Wilson interview a couple of years back and when asked what he'd been listening to, Perry Como was one of the "easy listening" singers he listed. The next time I came upon a Como album in the dollar bin, I snatched it just to check it out (remembering very little of his records ...just the TV specials). He was a fine crooner -- no match for Sinatra, Bennett, Nat King Cole etc -- a "pleasant sound" was what many wanted and that's what he had! I can't predict if his voice and those arrangements will cross many more generations as I think the others I just mentioned will.
(Bill Lloyd, Set to Pop as always)

It is with great sadness that I heard of the passing of Perry Como. How many of us remember those Christmas eve get togethers at Mom's, sharing those old family anecdotes, sneaking shots from the already watered down bottle of Five Star, Mr. Relaxation crooning "Good King Wenceslas" in the background.
Actually I have not one, but TWO Perry Como stories: A good friend of mine who was then known as Little Brucie Griffin was actually booked to be on the Perry Como Show at the age of four. His shtick was singing and playing the harmonica in blackface. Also my idol, jazz singer Jimmy Scott, a seventy five year old negro dwarf who sounds like Billie Holiday, told me that Perry Como was his favorite vocalist. He may or may not have been joking, it was hard to tell.
(noted Canadian Ted Hawkins)

I am old enough to have loathed Perry Como. The Anti-Elvis, no less. In addition, it always struck me that catching a falling star was a good way to set fire to your cardigan.
(Deviant Mick Farren)

Here's my thought: Not to take anything away from the man's talent, but the death of Perry Como brings to mind an era when someone could build a career out of projecting an image of amiability. In our time, in a culture dominated by images of phony rock "rebellion" and idealized rap "thuggery," this would be pretty hard to carry off.
Factoid #1: Perry Como received the first gold record at a time when one had to sell 1 million (not the 500 thousand you have to sell now). Factoid #2: I know the guy who wrote the Como hit "Round And Round." It's the same guy, Lou Stallman, who wrote the Yankees theme song. (I'm a Met fan myself, though.)
Comical take #1: Because of Perry Como, I wasted years trying to "Catch A Falling Star" and put in my pocket. I could never do it. Comical take #2: Como started the Latin explosion with his hit, "Papa Loves Mambo." Dig that subtly-veiled eroticism. Now that's what we call "Como-sexuality."
(Eytan Mirsky)

Perry Como was one of the few singers who had nothing to prove with his voice. Every once in a while he'd let loose just to prove he could do it, but most of the time he just did his job: he quietly, comfortably hit the notes and sang the melody. No fuss, no affect, no attitude, no problem.
Other pop singers with that quality are few and far between (Rick Nelson comes to mind) and it is much easier to point out the anti-Perrys on the scene (Michael Bolton probably being the Prince of anti-Perrys). Anybody who needs a lesson on how to get there (wherever there is) with a minimum of fuss just needs to listen to Perry sing "Round And Round." All you need to know about life is in there.
I'd have to say that of all the singers my parents listened to, Perry Como probably had more to do with the way I sing than just about anybody.
(Shane Faubert) (whose Cheepskates actually recorded an entire EP's-worth of Comosongs a decade ago)

Among my earliest musical memories are hearing Perry Como singing "Round And Round" and "Hot Diggity" on the monophonic AM radio in my parent's '57 Plymouth. I loved those songs, because to my impressionable adolescent mind they sounded exciting. When I discovered Top 40 rock in the early '60s, I tossed aside Como as hopelessly uncool -- my parents' music. But around the time I began broadcasting at WFMU in 1975, I encountered Mr. C's Greatest Hits in a used LP bin, and was sufficiently over my (then) prog-rock snobbery to recognize that the guy had style, class, charisma, and a soothing way with a song. I'll take him over Sinatra or Tony Bennett any day.
(Irwin Chusid, WFMU Radio)

Como made musical history with the outspoken December 1945 political single, "Dig You Later," which commemorated the Allied victory in World War II with no small amount of bravado. He also championed the crossover of country music into mainstream acceptance with his December 1952 cover of Slim Willet's "Don't Let The Stars Get In Your Eyes" and by being one of the first television hosts to spotlight Hank Williams Senior, who appeared on Como's long-running (1948-1963) variety show in 1951.
(Mike McDowell, "Blitz" Magazine)

Other things about the Son Of The Barber:
His fans are many and from all walks of life. The late Flip Wilson loved Como. So does country singer Don Williams. Sinatra didn't understand his appeal, but Crosby did and was flat out jealous. Dean Martin knew he could sing rings around Como, but that such a stunt would make him look bad. There would be no Andy Williams without Como's influence. Of course, Pat Boone's favorite singer of all-time is Perry Como, which speaks volumes without actually saying anything.
My wife loved watching Como on the tube when she was a child, and that seems to be where (despite several dozen hit records) he made his greatest mark. Less an icon than a popular artist, he wore well on TV, like a sleepy uncle who had to be begged to sing a ditty or tell a joke. I'll never forget his on-air interview with Carl Perkins, at the time fresh off the accident that allowed Elvis to take the Rock'n'Roll throne unopposed. An obviously contemptuous Como noted the sales of "Blue Suede Shoes" (two million), to which a grinning Perkins replied, "Yes, Perry, it's made me very happy." Deliberately looking away from the grinning rockabilly titan, Como muttered smoothly, "Yes, I suppose that would make you very happy, Carl." Then he intro'd the song and ran off stage as fast as possible.
Como lasted longer than Perkins, yet is not as revered today. There is no Perry Como revival. He was just another singer, while Perkins was at the forefront of a revolution. Would Perkins liked to have changed places with Como? You bet. So would most anyone in rock at the time. He was a huge star, much loved, and bankable as all get out. Perry Como knew that a pleasing personality would make you more money than would all the fireworks and artistic pretentions in the world.
A final word: "Como" is Spanish for "what?"
(Ken Burke, still continuing on the Saga of Dr. Iguana)

Ya know, I remember going to a Perry Como concert all the way back in 1976, and getting in very early as the roadies were setting up. A Disney truck was backed in and, even though I was almost a hundred feet away, I swear I saw them roll Perry out on a dolly and stand him up at the front of the stage. I watched that thing for a good fifteen minutes and it never moved. Later, during the show, Perry was in that spot in that position and he never moved a muscle. Only difference was someone had put a prop mike in his hands. So you see, Perry Como has actually been dead for many decades now. All that's happened recently is Disney cut back another program and Perry got caught up in the numbers game. I know we've lost a crooner here in the real world, but we've gained another cutthroat in the Pirates Of The Caribbean. Rust in peace, Perry.
(D.J. Johnson, "Cosmik Debris" Magazine)

I talked to my grandparents on Mother's Day and the subject came up. They said, "Nobody ever had anything bad to say about Perry Como" (as opposed to many of today's stars). Of course, my grandfather related that he wasn't thrilled when he had to wake up at 5 AM one Saturday morning to take my aunt to the airport to see Perry off on a tour.
(Blair Buscareno, "Teen Scene" Magazine)

How could you not like him? I mean, what was there to possibly piss anyone off?
(Chris Butler)
Exactly, Chris.

See you later then, Perry. And Thanks for the Pop.