Jeremy
Pop Heaven (Jam Records)
By: Alex Steininger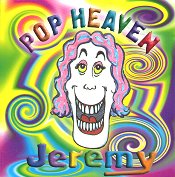 The theme music to a dream, or rather a positive, family-oriented television show of the 70's, POP HEAVEN is an appropriate title for Jeremy Morris' latest album. Never depressing or border lining on the sad, his psychedelic pop tunes feel as if you're on an acid trip while listening to some pop of the past.

Swirling with happiness (although the lyrics don't always reflect this tone set forth by the music), every track on this disc has a very bouncy, happy-go-lucky feel to it that is very warm and inviting. Surrounded by delicious pop hooks and lyrics that are worth singing along with, Jeremy Morris has a knack for writing pop-centered pieces that are catchy.

However, the underlined 70's theme (from the artwork to the music) gets very tiresome after a bit. All of the thirteen songs on this disc are songs I can imagine singing along with and having a great time listening to if they were in a different environment, such as a pop rock format.

The songs are well written, like I've been saying all along, but the psychedelic, dreamy escape the music takes just seems to be too much after awhile. The acid trip can't last forever, and when it fades you're left with some music that is too reminiscent of the time period that gave birth to it (or rather, wished it gave birth to it). Still a great pop songwriter, Jeremy Morris just needs to step into another time zone. I'll give this disc a C.