Jeremy
Pop Rules (Jam Recordings)
By: Gary "Pig" Gold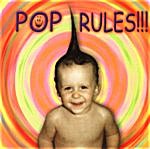 A handy digital compendium of sorts which can easily serve as a sonic introduction to all not already on a first-note basis with one of the music underground's most beloved and respected veterans. But then Pop Rules also goes and presents along the way its own little mini-history of the genre(s), from beautiful beat-balladry to revved-up garage-rock to gentle day-glo psychedelia.

You see, there just doesn't seem to be a single sound or style the multi-equipped Jeremy, alongside drummist Dave Dietrich, won't offer the willing listener, while certain tracks ("It's Getting Better," "Can't Go On This Way," the wholly Eric Carmen-worthy "Open Up The Door" and the stunning "Where Were You?" in particular) actually transcend the proceedings by CREATING, as well as paying tribute to, musical histories past yet still beloved. And then? The final three tracks simply and eloquently soothe and relax, sending along good sentiments and reassurances for all.

So unplug those MP3s, strap on your Happy Helmets, and POP, I say! You'll be more than glad you did, you know.