Jeremy
Salt The Planet / Rare (Jam Records)
By: Gary "Pig" Gold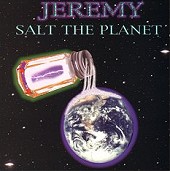 Hitherto best known as the indie-poppin' pride of Kalamazoo, Michigan, the one and only Jeremy Morris has taken a most unexpected -- yet most rewarding indeed -- detour on his 100-per-cent instrumental album "Salt The Planet."

Gone are not only Jeremy's delicate ways with a word, but his six-string orchestra of guitars as well-- and in their place, in the main, sits a Roland D-70 synthesizer. Never fear, however: the man has such an innate, never-faltering mastery of song structure and arrangement that the result is as far as one can get from the "new age" wallpaper music rendered when less experienced ears tinker in this realm (are you listening, "Fireman"?). The title song, for instance, may well be rooted on a "Dark Side"-era P. Floyd bass riff, yet it quickly builds and embellishes to a near Eno-meets-Philip Glass level of ambient sophistication.

"Earthquake," similarly, paints an entire apocalyptic story-in-sound -- the kind only hinted at during the fade-out of Jimi Hendrix's "House Burning Down," for instance. This vividly cinematic quality of Jeremy's work suggests he may well be advised to add the role of film scoring to his already over-flowing palate of activities on behalf of independent music-makers the world over.

Speaking of which, his credentials as rock'n'pop raconteur are kept in good view on "Rare," offering a dozen tracks which until now haven't yet made it onto any previous releases. "If We Try," "Won't You Come Back," and especially the rollicking Buddy Holly-ish "Hello Tomorrow" are but three additional examples of what a perfectly practiced pop composer Mr. Morris is, but it's actually this discs five live tracks (including a chillingly beautiful take on one of my personal Jeremy faves, "Where Were You") that demonstrate the man's rarely-glimpsed, rougher-rocking side.

Perfectly subtitled "A Collection Of Pure Pop," "Rare" proves that even this man's "leftovers" deserve -- and more than withstand -- close scrutiny; BOTH these albums, it should go without saying, deserve your undivided, immediate attention.