Special Consensus
Our Little Town (Pinecastle Records)
By: Alex Steininger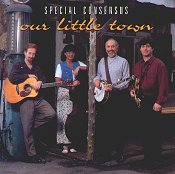 Led by the powerhouse banjo of Greg Cahill, a respected member of the Bluegrass community for both his work in Special Consensus and as a session player, Special Consensus is able to get your toes tapping and your feet moving with some spine-tinglin', hot bluegrass.

Starting off with "Another Day With The Blues," the action kicks off. Chris Walz lead vocals, and guitar work, set the mood for what turns out to be an amazing, non-stop party. The song just rattles around in your body, while you grab someone and start to dance along. As mentioned, Greg Cahill's banjo pushes the song to the max, giving it a strong personality. A feverish number, it will send waves of heat throughout your body while you're listening to it. Definitely a great song to warm up with, and an even better opening catch for this album.

"Blue In The Blue Ridge" gives us a chance to hear Andrea Roberts' (acoustic bass) vocals. Beautifully sang, the harmonizing vocals from the three other band members make it even better. Andrea's vocals bring the loneliness and sorrow of this fallen long tale to the surface, giving the song a heart-aching (yet warming) urge that will instantly find shelter with your ears. As her voice recalls loneliness, you'll feel very close to the song. A very easy topic to relate too, Andrea draws you even closer with her stunning vocal work. Although, not written by her or the band (much like many tracks on this disc), she brings a positive energy to it that seems almost impossible to match -- including that of the original songwriter.

"Slow Train Through Georgia" shows the band in another light. The energy and fun-factor are there, but this time around they slow things down a bit. The soft tone of the music will bring up many emotions, while the dancing banjo will get you to do the same. Colby Maddox's (mandolin) lead vocals work great with the song, and Andrea's complimenting backing vocals help push the song even further into your soul. They just keep amazing the listener, proving song after song that there just isn't one musician in the band -- everyone here knows how to play and create beautiful bluegrass numbers that flow right into your soul.

Ending with "New Jerusalem," an a capella gospel track, the band blends their vocals together nicely. Proving they can gain your attention even without the burning banjo, Special Consensus closes out reminding you just how great a team they are.

Chicago bluegrass at its finest, Special Consensus knows how to get down and have a good time. Working arranging together like magic, each composer will have you at the edge of your feet (or toes, whatever the case may be). Definitely a choice bluegrass album for 1998, I'll give it an A.