Lovemongers
Here is Christmas (B2 Music)
By: Alex Steininger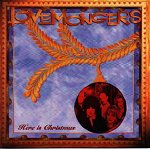 The Lovemongers -- featuring Ann and Nancy Wilson, Sue Ennis, Frank Cox, and Ben Smith -- wanted to release a Christmas album ever since they recorded a track for some Christmas compilations a few years ago. And HERE IS CHRISTMAS was their chance to write their own Christmas tunes celebrating the holiday season, as well as relive a few songs they grew up with...this time with their touch stamped on the song. The outcome is a lush, elegant pop album that is as beautiful as kids faces plastered to the windows as they watch the snow fall down on Christmas day.

The two classics they decided to re-invent were "Ave Maria" and "'O Holly Night." On top of that, eight new compositions make this album the laid-back album you can play while sitting next to the fire with a loved one on Christmas eve, or while you're eating Christmas dinner with your whole beloved family.

The album is gentle, delicate, and full of harmony. Perfect for any Christmas celebration, regardless of musical tastes throughout the party. Everyone will fall in love with the soothing sounds, the vibrant love that lives throughout the disc (and the holiday season), as well as the peaceful nature the album gives off to all that listen.

Beautiful voices help capture the essence of the beautiful holiday season, while the accompanying instruments bring the joy full-circle. I'll give this album an A-.