The McLains
More Fun Than We Ought To Have (Pinecastle Records)
By: Alex Steininger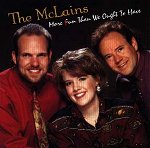 The McLain name is one of the most well-respected and honored names in bluegrass history. So, it's no surprise that a team of Raymond, and Michael & Jennifer (husband and wife) McLain has an outcome of toe-tappin', sing-along, all-out-fun bluegrass music you'll find yourself listening to and humming all day long. Did I mention this was their debut? Well, it is.

Heck, take away the name and you still have a rock-solid album, as is evident in the opener, "It'll Come To Me." Putting on the CD, I was tappin' my feet along within ten seconds. But when the chorus hit me, I was up and out of my chair, singing and dancing along. The music was that powerful, I just couldn't help it. The combination of three well-rounded vocalists and the stream of banjo and fiddle mixed with the mandolin, bass, and guitar just struck up a perfect blend of tradition and vibrancy.

"(Wish I Was A) Freight Train" just keeps the good ol' times a comin' with another infectious bug living in some lovely down-home music you can't help but adore. It's both pretty and fun, a combination that doesn't come along all that much, and when it does you don't want to pass it up.

"The Winner's Circle" settles down a bit, giving the listener a time to rest their feet and just sit back to absorb the delicious, down-home flavor that flows through every word sang and note played. The banjo is a source of hot rays from the sun, while the harmonica plays with your soul and soothes it over. The hooks are still there, which means you're mind will never stray and will always be focused on the music. But why would you want to take your concentration off the music, it's so harmonious you'll want to listen to it over and over again.

Tradition takes a step forward with The McLains' debut. This album is ripe both in texture and flavor. A joyous stampede of music you can dance and sing along with, as well as sit back and enjoy, here is one record that won't exit your CD player for some time. I'll give it an A.