MC5
Starship: Live at the Sturgis Armory, June 27, 1968 (Alive/Total Energy Records)
By: Gary "Pig" Gold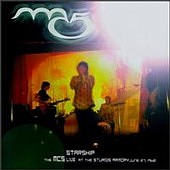 Like their similarly much-maligned (at the time) Michigan brethren Iggy & the Stooges, the one and only MC5 never ever were captured on vinyl during their hey! days with a speck of their on-stage furious frenzy left intact (Damn You, Elektra Records). However, like the Stooges so many years after the fact with their finally-properly-produced version of "Raw Power," this just-as-totally-awe-striking, seventy full minutes of "Starship" at last presents the MC5 in all of their crashing, burning, and yes, mother-fucking glory.

Loud, rude, and with gobs of attitude to spare, this most quintessential of Motor City quintets duly grab, strangle, and wrestle to the floor in a bloody, muddy heap everything from Pharoah Sanders and Sun Ra -- by way of Chuck Berry, that is! -- to a James Brown medley and even an oddly appropriate "Tutti Frutti" (not to mention the usual political posturing, courtesy mainly of their manager / mentor John "Ten For Two" Sinclair --after all, this was 1968). Sure, you've heard this all SOMEWHERE before (the MC5's "Come Together" -- no, not the Lennon tune -- sounds just like The Who's "I Can See For Miles" gone gloriously all wrong). But imagine, if you possibly can, just what an alternately terrifying and exhilarating (depending on which side of the generational fence one sat) experience such a show must have been to the unsuspecting teens filling the Sturgis Armory on this particular hot summer evening! Why, the concluding eleven minutes of "Black To Comm" captured here alone goes to show this was all about as far from "Louie Louie" or "All You Need Is Love" as one could safely be at the time!

What is all the more amazing is that "Starship" consists entirely of sounds captured on some long forgotten kid's reel-to-reel recorder, plugged directly into the band's tiny soundboard lo those thirty-odd years ago. Nevertheless, would you believe the results make such previously-hailed concert albums as "Live At Leeds" sound positively quaint and sedate in comparison? BELIEVE it, mother-you-know-what-ers! --and kindly grab yours today.