Goober Patrol
The Unbearable Lightness of Being Drunk (Fat Wreck Chords)
By: Alex Steininger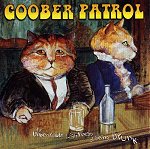 Four guys from Britain playing fast punk music with a pop edge is what Goober Patrol is all about. Drinking, having fun, and just being yourselves is what their music is all about, and it shows on their latest, THE UNBEARABLE LIGHTNESS OF BEING DRUNK (Fat Wreck Chords).

Now, I love pop-punk music. Anything fun, energetic, and catchy is always a good thing. But, if the vocals aren't there, the music suffers, and I just can't bear it. Goober Patrol has some very infectious music, very tight melodies, and a great sense of where they want their punk fury to go. Unfortunately, the vocals just don't do it for me.

Of course, there are exceptions. "The Unbearable Lightness of Being Drunk" features a knock-dead chorus that is full of softer vocals over a very poppy base that will drive right through your brain and force you to sing along.

There are a few other standout moments on this disc, but, for the most part, the songs are just your run-of-the-mill pop-punk with typical lyrics and less-than-decent vocals that just turned me off of the music. I'll give the album a C-.