Ink & Dagger
The Fine Art of Original Sin (Initial Records)
By: Alex Steininger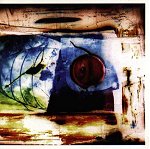 A Vampire punk-rock outfit from Philadelphia, Pennsylvania, Ink & Dagger shake things up as they redefine just what punk rock is. Hard and fast, chalk full of loud guitars and monstrous rhythm beats, the one thing that doesn't sit well with me is the vocals.

I just couldn't get into them. I tried, but they scream and scream, tearing apart the power of the music and controlling everything a bit too much. Too dominant, they leave little room for the rest of the music to breathe and be free.

If it weren't for the vocals, though, this band would be quite the band to keep your eyes on. They're furious, powerful, full of vengeance and anger, and have something to say. And what they have to say they don't just go "here, this is what we have to say." They encrypt it and give you the chance to calculate their words in your own interpretations.

But, alas, the vocals just weren't what I was looking for. Therefore, even after two full listens, I couldn't find myself in the music. I'll give this album a C-.