Inger Lorre
Transcendental Medication (Triple X Records)
By: Alex Steininger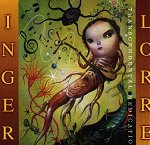 On her first solo album, Inger Lorre, the former lead singer for famed L.A. band The Nymphs, shoots back into the music scene with a provocative disc that isn't afraid to fuse pop, blues, rock 'n' roll, and many other elements that have influenced her along the way.

Answering Hole's "Sassy" from PRETTY ON THE INSIDE, which opens with a message Lorre left on Courtney Love's machine, Inger takes a stab at the Cobain murder mystery, pointing fingers at Courtney herself: "I thought you swore/you didn't have a goddamn gun/well son of a gun/did they make you run/into the first pair of arms/that you mistook for love/and maybe it even was/but she's not your friend/she can tell you what you want/but she's not your friend." How can you not like an album that opens like that? But, does the punk-angst and piss-back spirit last throughout the album?

Discussing her feelings towards music and the industry, the blues-ballad "Thief Without the Take," featuring a duet with the late Jeff Buckley, Inger pours her emotions out on disc with a catchy, soulful mood surrounding every note. The music takes a while to grow on you, but music this honest and pure will grow on you, there is no doubt about it.

"Beautiful Dead" shakes and rattles with a punk rock spirit that will surely put the venom back in your spit. Chalk full of some pounding rhythms and a thick guitar, Inger takes control of her surroundings and packs an emotional punch into a tight rock package. Catchy as well, you'll be singing along by your second listen, no doubt about it.

Slowing it down a bit, "Devils Priest" takes on a mysterious, Goth/pop/rock approach as it creeps through the air like a shadow on the prowl. Her vocals are windy and cold like the night sky, while the song glows as if it were the moon. As you sit and listen to the song, you can't help but watch the imagery go off in your head.

Ending with "7B," another slow thriller, Inger once again shows her lighter side without loosing any of the emotion or punch the album has. A tight package from start to finish, it is the emotional and spirit that makes the album worth your listen. Because, the first few times you listen to this is will be hard and not warm up to you, but as you keep listening the honestly will shine like the sun and melt away your core until you can't handle it anymore. With some help from musical guests and a backing band, Inger is able to make the switch from bandleader to solo artist quite successfully -- which isn't an easy task. Dead-on and never beating around the bush, her lyrics capture what she is thinking at the moment, and put you inside her mind. That's what I like to hear. I'll give this disc a B+.