Jeff London
Slowness (Hush Records)
By: Alex Steininger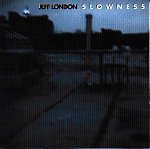 Portland's singer/songwriter Jeff London plays power-folk with a voice and an identity clearly his own. Lead by an acoustic guitar as powerful as Jeff's voice, with light percussion and string arrangements to add depth, the music calls upon your emotions and makes you think about life as Jeff deals with his own in a universal way that is easily understood by, and applicable to, the listener.

The opening track, "The Welcome Mat," starts off with the lines "This is as upbeat as I can muster/Cause I've worked the worst of jobs/Served the biggest of slobs/To make enough to pay the rent." As Jeff sings this, you know it to be the truth. His honest, soft-spoken voice comes across like a man who's been through a lot, but still sees life through an optimistic point of view.

"Solo Will" sprinkles in some light percussion and bass, along with a violin, to set the mood for a painfully soft number that calls upon your emotions and almost puts a tear in your eye. Jeff's voice gets even softer and sadder as he takes you through a tale of romance and loneliness. The violin creeps up on you and starts to consul you, while the acoustic guitar furthers the sad state of the song.

"Wear A Boy Out," though, features a full back-up sound, with the bass and drums adding more than a shadow to the song. The song sounds like a 60's pop meets modern day garage rock number, though the lo-fi rock approach helps to re-implement the folk backing to the song. Jeff still manages to keep a very low-profile vocal approach to the track, even when the drums seem to be drowning him out. But, he makes it work in fashionably style, keeping everything in tact while stretching his sound out a bit.

Getting back to the basics, "Automatic" settles into a soft acoustic number with faint percussion and a violin backing up the depression and sorrow that attach itself to every word Jeff sings. His faint approach, covered with a sad tone, once again almost brings you to tears. But it is the slight optimism hiding in Jeff's voice that keeps you from falling apart, as you sit there and feel his every word, while ideas of sympathy and pain run through your body.

Ending on a slightly more upbeat note, with the sparkle of the Fender Rhodes, Jeff lets his heart do the talking for him as he musters up some happiness in an otherwise sad atmosphere. He has the ability to make you feel every word, which is a nice gift, while he also seems to be cleansing his emotions and making himself feel better.

It is important for an artist to make you feel the emotions he is conveying through his song. And Jeff has this down to the bone. Using his voice and the guitar as the main instruments, and backing them up when appropriate, he is able to not only paint vivid pictures, but place you inside his own mind frame to allow you to know where he is coming from. I'll give this album an A.