VARIOUS ARTISTS
Dr. Speedlove Presents: Chemical Warfare (Mix Mix Bang Bang) (Invisible/Sexy Beat)
By: Alex Steininger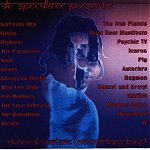 With two-discs to work with, Dr. Speedlove brings forth some of the most innovative electronica artists today on one compilation. Artists like Girl Eats Boy teams up with The Dub Pistols, Globo with Meat Beat Manifesto, Pigface and Psychic TV, Sow vs. Pig, and many more creative line-ups help make this one of the hottest, and longest, compilations currently available.

Throughout the two discs you'll find yourself shaking, grooving, and moving along to almost every beat on this disc. Just when you think the excitement level has peaked, another hot electronica groove will come along and send you right back to the rave inside your mind.

Disc one boasts Sow vs. Pig on "Wedge," Scorn vs. Autechre with "Falling (FR 13 Mix)," and Pigface vs. Psychic TV on "Hagseed (Slagseed Slagadelic Mix)," as well as many more fierce artists ready to invade your minds with their burning compositions of noise, lust, and color folded into one tight, musical package.

Disc two packs the same energy and intensity with artists like The Prodigy vs. The Prodigy on "Rhythm of Life," Psychic TV vs. Download with "Firewoman," and Pigface vs. Tranquility Bass' contribution of "Warzone." And although it is a close race, disc one seems to one-up disc two, gaining the crown of the top disc in a great two-disc set.

If you're looking for some exposure to new artists in the electronica field, while gaining new material from your favorites, this compilation makes it easy. Whether you sit at home and have fun, need a soundtrack for your party and/or rave, or want to just go on a ride without any chemical substances, this disc will do it for you. I'll give it an A.