VARIOUS ARTISTS:
Dread Kennedys - In Dub We Trust (Invisible Records)
By: Alex Steininger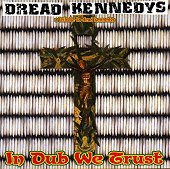 I've got a startling confession. I never really got into the Dead Kennedys as much as every other punk rocker around me. I mean, they were good, and Jello could write some of the most amazing lyrics. But they were way too political for me. And, not being a very political person myself, this turned me off. But, I did respect them for what they did and what they were about - at least they stuck to their guns every step of the way. Hearing Dead Kennedys songs in a new light, as some of the hottest underground electronic artists re-create the songs in dubbed out fashion though really made me do a double take and re-think my position on the band altogether.

Pigface Vs Beat Master Crash pull off one of the best, and most intriguing versions of "Holiday in Cambodia" that I've ever heard. I think this song is probably one of the most covered songs in the history of political punk rock. So, approaching a song like this can't be easy, seeing as how everyone and their mother have done a version for their band. But, Pigface and Beat Master Crash pull it off without hesitation.

Meg Lee Chin's "Nazi Punks Fuck Off" is a smoking industrial mega-trip of electronic sounds and Chin's sweetly snide and devilishly charming vocals, backed by Biafra's lay-it-on-the-line lyrics.

One of my personal favorites from the Dead Kennedy's catalog, "Too Drunk to Fuck," becomes an industrial scorcher. Blistering guitars cut away at the surface, while the percussive grooves shoot you down.

Subgenius and Jared Louche turn "Chemical Warfare" into a bouncy techno-trance groove. Whereas the original won't get you dancing, this one sure will. And where would we be without the classic "Jock-O-Rama," the song all punk rock outcasts latched onto throughout high school and their turbulent youths, knowing that they weren't the only ones who hated the oh so cool jocks of the school. The song isn't as good as the original, but it's a fighting, groove-induced synth-driven trip number sure to put the fighting spirit back in you.

Dead Kennedys fans have found the must-own disc of 2000. Hear all your favorites re-done in the spirit of electronic innovation. The classics never sounded so good. Heck, I even have a newfound respect for the Dead Kennedys. Maybe I'm just a bit more politically conscious, a bit older, or was too stupid to get it the first time. At any rate, I'm going over to a friend's house now to borrow his D.K. records to re-introduce myself to the band. I'll give this an A.