Black Dawn
Absence of Time (Suicidal Groove Records)
By: Alex Steininger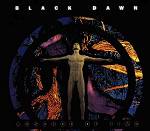 A heavy metal band in every sense of the word, Black Dawn stays true to the underground metal scene by keeping their roots firmly in sharp, harsh riffs, pounding rhythms, and vocal screams that rip through the music like a nightmare gone wrong.

Although I don't really agree with their music, one thing that really amazed me was the production. It was slick; the band had a solid studio crew who took care of them and made the record sound both polished and fierce, a hard combination to get.

The bands pours out the metal throughout ten tracks, never letting go, and always pushing things a bit further track after track. They may have their soft moments, but they don't make a long-lasting impression like the hard parts do, they merely use the soft parts to loosen up their audience before crushing them again with some heavy metal craziness.

Now, I said I didn't really get into their music or understand it, which is true, but after listening to the disc a few times, I seemed to get a better feeling for what they're all about, and could slightly get into the music. Though metal really isn't my thing, they weren't that bad at all. They could handle their instruments, which is a lot more than I can say for a lot of bands out there, so I guess they can't be all that bad. Plus, they had a clear vision of where they wanted to go and ripped a straight path to that point on this record. I'll give the disc a C-.