Black Dice
Beaches and Canyons (FatCat)
By: Cam Lindsay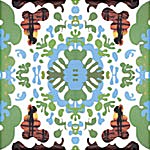 Reinvention is a tricky feat to pull off. Madonna seems to succeed commercially every time, even though everyone knows she's full of shit. Hardcore stallions Cave In turned into a prog-loving punk band and have improved since doing it. So how about New York's Black Dice? Known for their ever-so-brief, face-slapping brutality, the four piece pawned all of their hardcore tendencies for the most headfucking, psychedelic sounds imaginable.

Now recording for the trendsetting DFA label, Eric Copeland, his brother Bjorn, Aaron Warren and Hisham Bharoocha, have created the most exciting piece of experimental noise since The Boredoms released Vision Creation Newsun. Originally release in September of last year, Beaches and Canyons (domestically released here by FatCat) is a swirling masterpiece of bubbling colours, tranquil passages and bursts of ear-popping sounds. The five tracks don't come off as a composition made by a typical, formulaic band. The on again/off again vocals and Bharoocha's sporadic drumming, flutter in and out of the songs, in between a wide array of samples and sounds created by all four members (who list an impressive list of equipment in the liner notes).

There are still shades of the past in how they use their noise. Most noticeable is in "Big Drop", which approaches a hardcore blueprint for a short amount of time, ending up completely mashed by their tendency to wandering with their styles. The vocals are the closest similarity, yet they tend to near work of Japanese noisesters like the aforementioned Boredoms and Melt-Banana instead of anything from their past.

The transition Black Dice has made is a remarkable achievement, but it shouldn't overshadow the beautiful sounds fashioned on Beaches and Canyons. This record will hopefully go down as an important one in the world of experimental music, because you rarely get to hear something as creative and deliberate as this.