Overthrow
React (Triple Crown Records)
By: Alex Steininger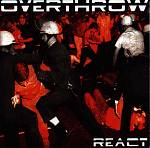 A four-piece from Long Island, Overthrow plays hardcore with neck-breaking intensity. They're able to whip the listener up into a frenzy with their political content and their strong willed, aggressive beats.

Opening with "Dead Last," they quickly put your body into motion. With screaming vocals and crushing guitars, not to mention an unbreakable rhythm section, they pound their way right in to your cerebral cortex and start hammering away.

"Take By Force" opens the band up, as they trade in a bit of their harsh edge for some more melody; but don't fear, they don't lose an inch of their intensity, as the hard pounding beats that mark their territory throughout this disc are still there, though the band does slip into a melodic coma here and there to unleash the intensity and calm things down a bit before breaking more necks when they jump right back into the brutal flavor of the disc.

"Resistance" and the title track, "React," keep things moving with more heart pounding, ear throbbing hardcore. The band screams on their instruments, while the vocals pour out the shouts as well. Their political message is fiercely driven into your soul by the constant thrash beats the band throws around.

If you're looking for some music that will get a reaction from you, and force you to do more than sit there and listen, this is your disc. It's very intense stuff, and not to be taken lightly. I'll give it a B-.