The Queers
Later Days and Better Lays (Lookout Records)
By: Alex Steininger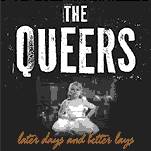 The classic pop-punk band The Queers are back at it again; no, this isn't a new album, it's even better. This is a collection of demos, alternative takes on your favorites, and unreleased Queers material from the past. This is a history of The Queers through the songs they didn't release; songs that were recorded throughout their career but for one reason or another didn't make it to the public. But here it is now. You can hear one of your favorite pop-punk bands as they were meant to be heard -- raw, unleashed, and full of power.

Originally starting up to give Ben Weasel a tape of their material, so they could open for Screeching Weasel, the first fourteen songs on this disc are the songs they recorded for the demo to give Ben. The songs are raw; the band seems to not care about anything, letting all their worries and fears go as they unleash and give it their all to just have fun and land themselves an opening slot with a band they love. Little did they know that their take on pop-punk would be so influential.

Songs like "Granola Head," "I Hate Everything," "Teenage Bonehead," and "I Can't Stop Farting," all possess the charm, charisma, and most importantly, the humor which has characterized the band throughout their career. The songs may have a serious tint to them, but the band always coats everything with plenty of humor to make you laugh. And as you bounce around to the pop sound, you can stumble while laughing hysterically at their take on the world.

As the dish progresses, so does the band. Their trademark pop-punk sound comes into its own with each passing track, all the while you're being treated to pop-punk gem after gem. "Born To Do Dishes" demonstrates the band's knack for what they're doing, especially if the liner notes are true and this song was written in a five-minute rush period of time.

"Junk Freak," the Beach Boys' cover of "Little Honda,' and "I Can't Get Over You," with Joe Queer on lead vocals (he didn't do lead on the original release of this song, Lisa Marr from Cub/Buck fame did) all help put the seal on the deal, demonstrating this band is a tight-pop band with all their punk traits still in tact. They can through a powerful melody out as hard as they can some punk chords and rhythms.

Queers fans will rejoice as this 'treasure chest' of newly released Queers gems hits the streets. And others will find joy listening as the Queers go from a band that just wanted to record one album for fun to a band that is now nationally-recognized and loved for their pop-punk style. I'll give this album an A-.