Question Mark & The Mysterians
Feel It! (Varese Sarabande)
By: Gary "Pig" Gold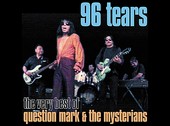 Of course we're all on a more-than-first-name-basis with thee classic "96 Tears," and the more aware of yez out there with its boldly bastard sons "Don't Hold It Against Me" and especially "Can't Get Enough Of You Baby." But until Allen Klein & Co. decide to liberate those original Mysterian masters from their vinyl lockbox, "Feel It!" more than fills the Best Of bill with this slew of meticulously re-recorded, Farfisa-soaked wonders -- not to mention such bonus beauts as two (count 'em!) circa-66 demo acetates, a rough and very ready "I Need Somebody" captured extremely Live at a 1998 NYC Cavestomp, and even a virtually vicious video of "Sally Go Round The Roses"!

As if all of the above wasn't already enticement enough, you can digitally thrill to the wholly Animal-worthy "Ain't It A Shame," the should've-been-billion-selling "Don't Give It Up Now," and my current Q-Mark near-monophonic marvel "Hangin' On A String."

PS: and Rudy Martinez IS God. Pass it on...