Quickspace
The Death of Quickspace (Matador Records)
By: Alex Steininger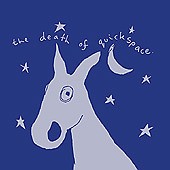 Electro-rock that takes advantage of space and time, Quickspace's latest, The Death of Quickspace, is a collection of finely crafted, often-distorted soundscapes. From the space travel mindset to the rock 'n' roll hybrid fuel, Quickspace take in life and their surroundings; technology and mankind's fears of it; and energy to formulate an intensely melodic, spaced-out sound that is short fused and ready to explode.

From the screaming, heavily-distorted wall of noise of "The Lobbalong Song" and the airy, light bounce, spacey roar of "They Shoot Horse Don't They" to the quirky space-rock instrumental jam of "Munchers No Munchers," Quickspace mix the serene, the unimaginable, and the jagged to form an articulate sound that is oft-mellow, sometimes abrasive, and always a bit too over the edge to truly define.

A wonderful use of electronica inspiration, indie rock upbringing, and love for space-rock, Quickspace turns the ordinary into the new sounds of tomorrow. I'll give this a B+.