The Pins
All The Night Sky (Stick It To The Man Records)
By: Bernadette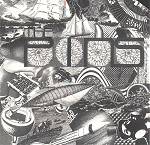 Critics of modern music will argue that the problem with punk music is its irrelevance to today. Back in the 1970's, the disgruntled British youth had a reason to feel despair, and the music was a reflection of their times. Thirty years later (hard to believe, isn't it?), with Johnny Rotten going commercial and the American economy going BOOM, the original angst-ridden problem child of the post-Beatlemania, disillusioned cockney youth seems more like an overgrown brat in desperate need of lithium therapy.

So, why the Pins? Why give even a second look at an American band (from Minnesota, no less) doing British punk? Well, for starters, they're not doing British punk. They are more of an experimental band--think R.E.M. and Visage get married and raise the kids from SOUTH PARK who pay more homage to the music of the garden tool than of the Pentium III.

For a band with a history of critically acclaimed vinyl LP's and Robert Goulet-esque warbles by lead singer Rich Barlow, All The Night Sky is actually rather remarkable. The Pins careen through each song with a dark, ambient abandon most notably on "Hollow Bells" and combine it with pedal steel guitars and keyboards that sound like 11th century Visigoth temple organs. Fans of Mike Oldman will enjoy "Chartreuse" immensely, while "Slide" (not to be confused with the crap Goo Goo Dolls song of the same name) challenges your perceptions and proves a staple for any venerable droner playlist.

I should warn you, though, that the Pins' music is not for everyone. There is one too many dangers associated with autoingestive shoot-swoop rock(Third Eye Blind, anyone?), and being unaccustomed to the music of the Pins is one of those pitfalls. I warn you again, but with "All The Night Sky" you either have to love it or hate it. There's really no in-between.