Jason Rubenstein
Cathedral (Gearhead Music)
By: Alex Steininger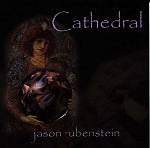 On his second full-length, Jason Rubenstein, a man who holds a degree in Computer Science, uses digital-analog equipment to capture the sound he wants to create, which is a blend of ambient, gothic, and classical music.

The album is sparse and full at the same time, capturing the essences of classical music, while also diving deeper into dark shades of the sounds found within gothic and ambient music. Everything has its place; each sound plays an integral part in capturing what is going on in Jason's mind.

But, without any vocals, and the tone of the album being fairly quiet, after fifty-four minutes each song seems to blend into each other. It is good to listen to while you're napping, sitting back with a beer, or wine, and relaxing, or using it as "thinking" music while you sit down to work. Other than that though, it seems to be too sleepy and laid-back to really conjure up any reaction from you.

Rubenstein seems to be a very capable composer; but with the average song lasting over four minutes, sometimes you get lost in the maze and can't find your way out. He does, however, change tempos enough to keep things lively, but even then the album still feels like one big mesh.

If you want to listen to it while you're relaxing or want to settle down, it is perfect. But for anything other than that, unless you're a classical music fan looking for something to stir you a bit, this just doesn't cut it. I'll give it a C.