Potshot
Rock 'n' Roll (Asian Man Records)
By: Alex Steininger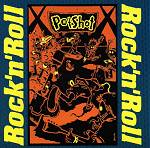 The Japanese ska-punk act Potshot is back with another album on Asian Man Records. Bringing forth their fast, vigorous, and fun ska-punk charge, the band serves the listener twelve songs to dance too.

The band opens with an instrumental, "Sing Along With Potshot," which lasts a mere forty-one seconds. It's fast though, and easy to dance too, so it gets your engine revved up for their next cut, "Freedom."

"Freedom," may not have lyrical strength going for it, but it has the heart and mind in the right place, along with the distorted upbeat that will send you dancing. "Trashy Talk" is another number that will send you dancing, as the band warms you up with their horns, shakes you around with their rhythm section, and sends you out spinning on the dance floor with the wild guitar pouring out the speedy upbeat.

"I Can" and "Being With Me" are two more songs on here that won't miss your ears; the energy the song possesses is too strong to pass on. Same is true for "Beyond The Truth," ska-punk about as fun and wild as you've heard it before.

The band may not have the best lyrics, but it isn't the lyrics that you'll be paying attention to when this disc is playing. The message and the dance craze the music sends through your body are what you'll come for, and it is what you'll get. You can't deny the energy this band has, which really brings their music to life. I'll give this album a B-.