Citizen King
Making Royal Green Cards
By: David Jenison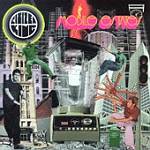 Laverne and Shirley, low-grade beer companies, and Bucks basketball may define the city, but Lenny, Squigey, and the new rock-hop wonders Citizen King give Milwaukee its twisted character and charm. The members of Warner's new signing, Citizen King, symbolize alternative culture, visceral experience, and snide sarcasm, as much as the music on their new album, Mobile Estates, exemplifies sharp hooks, clever phrases, and an explosive musical trend which matches alternative pop-rock with funky hip-hop. While people expect the best rock-hop from New York (Beastie Boys) or Los Angeles (Kottonmouth Kings), no one expects it out of Milwaukee. CK vocalist Matt Sims sets the record straight by explaining why Milwaukee is one of the best and toughest places to make music.

"The difference between Milwaukee and the LA is the palm trees," begins Sims. "In Milwaukee, we don't have palm trees. Here, it gets really cold. When it gets really cold, people get really bitter, and when they get really bitter, they get really honest, about everything. Relentlessly honest, actually. In Milwaukee, you have a lot more to worry about if you suck."

Made up of Sims on vocals/bass, Kristian Riley on guitar, DJ Brooks on drums, Dave Cooley on keyboards, and Malcolm Michiles on the turntables, Citizen King is a band that loves to smoke weed and party. From the second Sims starts speaking, it is obvious that he is hungover. Asked to remember the night before, Sims responds, "I cut my finger open trying to puncture a Mountain Dew can so I could smoke out of it. Don't get me wrong, though. I don't usually smoke out of cans anymore."

Sims has the reputation as largest bud consumer of the group (the Michael Rocchio of the band, if you will). He confesses to going through an eighth to a quarter every day, but he justifies it by saying that it helped him quit smoking cigarettes. The only problem with his pot smoking is that he gets the "mad stoner munchies."

"When I get the munchies, I like to scarf on Alaskan Water Chinchilla" states Sims, as if he's doing a television commercial. "It's a lot like Kentucky Fried Chicken, but they only grow in the Milwaukee River. It's a type of rodent. Around here we catch them with staple guns."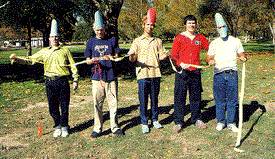 The members of Citizen King seem to strive to be different, or at least to be ultra-cultured in all things fringe. Their 20,000 piece record collection includes such titles as Mr. Magoo Talks to the Children, The Charles Manson Family Sings, and the soundtrack to the B-movie, "Vampiros Lesbos," of which Sims comments, "You can't argue with a lesbian vampire."
In addition to their odd cultural sentiment, Citizen King also distinguishes itself with real musicianship. Unlike most rock-hoppers, Citizen King records many of their tracks live. In fact, the live drumming is especially impressive, but not surprisingly so when one realizes that drummer DJ Brooks learned his chops from Clyde Stubblefield of James Brown "Funky Drummer" fame.
CK's Mobile Estates brings everything together with a diversely influenced yet cohesively sound collection of songs. The first single, "Better Days," has already experienced excellent airplay across the country (where's KROQ?), and potential follow-up singles like "Basement Show" and "Jalopy" argue that this album might have the theoretical "legs" to achieve considerable success.
The members of Citizen King, however, have all their focus on making hip music and just having fun. When asked what philosophical goals drive the band, Sims puts it all in perspective by saying, "Life is all about having fun and remembering to move out the way before the fun turns around and hits you in the ass."