The Ernies
By: David Jenison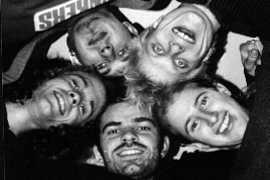 Mojo Recording artists The Ernies have far more dimension to their band than being another ska-rock band with a tongue-in-check name (the seldom uttered real name of Coach on "Cheers"). Rather, this five piece - made up of Will Hummel (lead vocals/guitar), Matt Goves (drums, percussion), Hayes Smith (sax), Mike Hughes (bass), and Chris Bondi (turntables, theramin) - has ideas, education, and experiences which make their songs a cut above the style's norm.

Original band members Will, Hayes, and Matt were all students of Virginia Commonwealth University. Matt majored in music performance (percussion) and Hayes in music education (where he learned to play the sax and bassoon). Will, however, studied something completely different. Will remarks, "We always wanted to have high energy, danceable songs, but we also wanted solid lyrics. I earned my degree in English, so I wanted to make sure that the lyrics were not just fluff."

The Ernies include fun humor in their songs, such as "It's Digestible" and "You Are Everywhere," but Will's literary influences come through as well. Will explains, "I was fascinated with the Modernists of the early 20th century because they were always breaking away from traditions in poetry. They still utilized traditions, but they would get creative with forms. My favorite poet was T.S. Elliot. In his epic poem, The Wasteland, he created a poetic mosaic with a bunch of different styles. He made allusions from classical and Western culture and to different works and how they all came together. When it comes to our music, I think Modernist thought influenced me the most. There are traditional forms in music, but the way music is now, a band can easily take bits and pieces from different styles and put them together. That is a big part of what we have done with our music."

Living in Richmond made musical assimilation more natural as well. Will continues, "Richmond is such a crazy town because it is so cultural diverse. It is right smack in the middle of the East Coast, so it is Southern in a lot of ways. It is also right on the I-95, so it has this link between New York and DC. Both hip-hop from NY and go-go from DC are big here. Plus, VCU is primarily an art school so there is a lot of creativity coming out of there. Three of us in the band actually live within a block from the school."

The Ernies mix different genre elements in their songs, but there is also a high level of energy throughout the album. Considering the roots of their energetic drive, Will responds, "I don't know if it's anger in our music as much as intensity. Life is an intense experience, and there are points that I want to drive home, like the idea of prioritizing that's happening in the present."

In addition to being one of the few bands to citing literary influences as significant to their music, the band also cites philosophy. "I am into examining the common threads between science and Buddhism," explains Will, who almost earned a minor in Philosophy. "There are thousands of books on the subject, like the Tao of Physics. They show how both science and Buddhism accept the principle of looking at what is happening right here and now because that is where one should base all other assumptions. Most people are either stuck on the past or the future when they should focus on the present. You can watch your thoughts from your past as they go through your mind, but you need to let it go instead of holding on to it and forcing it upon the reality of what's going on right now. This is the main motif that goes through all the lyrics on the album."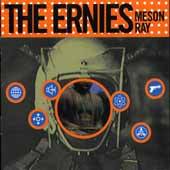 The Ernies previously released two independent albums which were more ska and rock. Going into the second album, The Ernies incorporated more hip-hop and reggae, which was a solid precursor to the multi-dimensional sound they feature now on their Mojo debut, Meson Rey. Mojo Records, who have an amazing track record with Goldfinger, Reel Big Fish, and Cherry Poppin' Daddies, are the perfect label to help the Ernies expand beyond their Virginia dominance, as they should. The all-ages ska/punk scene is evolving, and the Ernies' fuller sound and more thought-out approach should keep them on the edge for years to come.