INTERVIEW: The Muffs
Interview with Kim Shattuck, vocals/guitar (Honest Don's Recordings)
By: Alex Steininger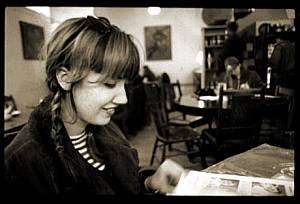 Alex: First off, did Reprise drop you guys or did your contract expire and you felt it was time to move on?

Kim: It was kind of both. In order to get off of a major, you have to be dropped. But, it was completely mutual. They were thinking of dropping us for awhile, and we wanted off, so they dropped us. It was good though, because we were begging to get dropped.

Alex: How did the deal with Honest Don's come about?

Kim: We were gonna be on Fat Wreck Chords, but the owner, he wanted to maintain a certain sound. And we were wondering what we were gonna do next. Then they called us and we lucked out and got a good deal.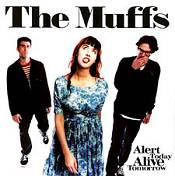 Alex: On the new album there is an instrumental, some slower stuff, and some standard Muffs-style material. Why did you decide to pace yourself on this album as compared to just blasting from track one to track thirteen?
Kim: Well, I guess I got tired of being a runaway freight train and just screaming the whole time. The instrumental came about because I got lazy and didn't put any lyrics to it. Then, when we demo'd it, it sounded so good, so we kept it. Alex: Do you think it has anything to do with punk rock being stereotyped and a lot of bands wanting to break out of the stereotype and just make great music?
Kim: We've always mixed it up from the beginning. We've always had the slower numbers, but this time around we did a few more and put them together in the middle of the record, so you notice them more. Our music has never been super fast, but we've always had fast stuff and slow stuff. The copy you got doesn't sound the same as the actual record that people can buy, either.
Alex: Why is that?
Kim: Well, we had pressing problems. They pressed it the wrong way and were like, 'this is how we thought you wanted it?' but it wasn't. So, they re-did it and it sounds a lot better now. The quality can really change depending on the pressing methods.
Alex: Did the album come out the way you wanted it to?
Kim: Oh yeah! Actually, the last one came out the way I wanted it too. Every song didn't really come out the way I wanted them too. I mean, some came out better than I wanted them to and some came out less than I wanted them to. But, overall it came out the way I wanted it, and I like it.
Alex: Are you guys going to make a video for this album?
Kim: I don't know. We probably will, but right now everything is taking so long; it feels like every move we make takes forever, so we'll just have to wait and see if a video happens.
Alex: What are your band goals for 1999?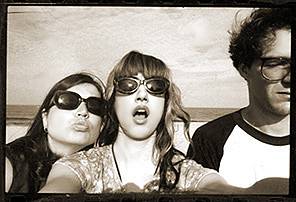 Kim: We want to tour and play a whole bunch. My goal is to write a whole bunch of songs so it doesn't take so long to put out another record. Two years between records sucks. Someone should call the Better Business Bureau on some of these major labels, because they have no idea what they're doing. They make you wait forever.
Alex: Well, usually they like to wait two years between albums so they can have proper set up and promotion time.
Kim: Not for us. After three months, if it didn't stick, they were done with our album. So two years is crazy.
Alex: Now, we all know touring has its up and downs. Is there any road experience that stands out in your mind, either good or bad?
Kim: I prefer to remember the good, but there is, of course, also the bad. A bad experience is when the amps break down and you can't get them fixed. Since we're a three-piece, if my guitar goes out we're missing something. I notice every little thing, I'm anal like that.
Alex: What do you enjoy and hate about the music industry?
Kim: I only hate stuff about the industry. When you're doing the art thing, it's creepy to juice money out of it. Booking agents, labels, managers, they're all slime. I hate that part of the industry. But, for the first time in our lives, our label isn't slimy.
Alex: If you could change anything about the band's history, would you?
Kim: I would have started with the band we have now. You just don't know until you work with people if it's going to happen or not. I love having Will and Ronnie. I wish Ronnie did more harmony, because he's really great at that, but he's insecure about it.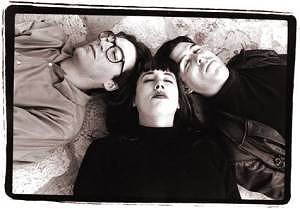 Alex: What are the highest and lowest points the band has experienced so far?
Kim: We got to be on the Drew Carey show, which was definitely a high. We originally played two songs for the shoot, but "Outer Space" got aired.
Alex: What goes into good music making for you?
Kim: I need some angst going on, which is easy, because something is always going on. It's not poetry--I hate poetry--so when I'm writing it can't be flowerly and girlie. I like it to bluntly say everything. It needs melody too. I really like the melody.
Alex: What inspires you to write the songs? Angst?
Kim: Angst...it's such a goofy word. What inspires me is stuff that happens to me. I write about people I know, too. I'll turn it around and beat myself up with the lyrics.
Alex: What do you want the listener to get out of your music?
Kim: Everything I put into it. I want them to hear it, like it, and hopefully it catches in your mind.