INTERVIEW: Unwritten Law
By: David Jenison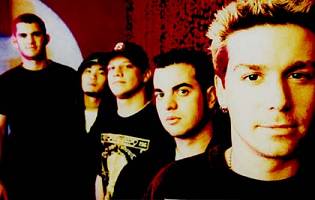 About five years ago, the music industry declared San Diego the next music Mecca, or, as the trades put it, "the next Seattle." Record label scouts hit the I-5 South and signed a number of local bar bands, without paying attention to San Diego's underground all-ages scene. In the years that followed, San Diego's only similarity to Seattle was that a bunch of custom coffee shops popped up like white heads. Soon, the "next Seattle" banner waved in Portland, Boston, and then even in Seattle again, leaving San Diego behind with only a minor showing from Rocket from the Crypt, Fluf, Lucy's Fur Coat, Rugburns, and the rest of their would-be stars. However, as the attention went away, San Diego started flexing its real musical power - youthful superstar bands like Sprung Monkey, Buck-O-Nine, Blink 182, and now Unwritten Law - vocalist Scott Russo, drummer Wade Youman, bassist Pat Kim, and guitarists Rob Brewer and Steve Morris.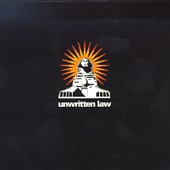 Unwritten Law's self-titled third album sold thousands of copies in just the first few weeks of its release This is no purprise because both their indie debut and their Epic Records bow sold tens of thousands. Having gone from Epic Records to Interscope, Unwritten Law are in a much better position now than they ever have been, with a future that look brighter each week.
Tell me about going from Epic to Interscope.
"When we were in Seattle making the record, Epic Records decided to drop us while we were in the studio. They never even heard the new record. After that, we didn't know if we wanted to go back to an independent label or just try to find another major. Interscope Records came in right away and genuinely showed a love for the record. It made sense to go with them."
What did you do differently with this album as opposed to your previous two?
"We didn't let any kind of punk ethics get in the way of songwriting. We wanted to make a record that we wanted to hear, rather than tyring to make sure that all the songs were fast and politically correct. We wrote about what we wanted to write about. We thought that if we were happy with the record, everyone else would be as well."
This record is also the most stylistically diverse.
"We didn't let anything hinder the songwriting. When we were writing the new material, we'd start jamming, and it didn't matter whether it was a fast jam or a slow one. We wanted to attack every angle of rock that we could and make a solid record from beginning to end. We're here to put the 'rock' back in 'punk-rock.'"
The song "Cailin" is the biggest departure musically. Is this song about your daughter?
"It's about my four year old baby girl. I wrote that song acoustically just for her. I didn't expect Unwritten Law to play it, let alone put it on the record. The song is about how much her daddy loves her."
What's a good example of mayhem that's happened at one of your shows?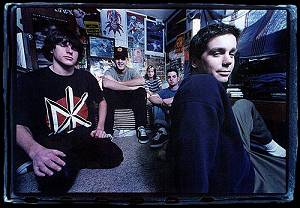 "One problem that keeps coming up is bouncers beating up the kids. Wade just can't stand it. He goes nuts when he sees bouncers man-handle the kids or power trip on them. Wade will stop playing drums in the middle of a song and go beat the shit of a bouncer. He is like the ultimate fighting champion king. I'm surprised we don't have a lawsuit against us."
Does he ever get hurt?
"He never gets hurt. He's like Fletcher from Pennywise. . . he gets away with everything."
Do you ever jump in and help him?
"No, I'm too small, and I have too many years under my belt to go fist-fighting. Right after everyone else hit puberty and kept on growing, I had to stop fighting."
I noticed that Pat Kim is in your band. He was formerly in Sprung Monkey. Are there any hard feeling between Kim and his old band?
"No, not at all. Sprung Monkey played with us on our album release dates in California and Florida. We are still best friends. Both bands grew up playing all-ages shows together."
What's the most important thing that you want to say to your hometown fans in San Diego?
"Thanks for being there from the beginning."