SHOW REVIEW: Pete Krebs/No. 2/Sean Croghan/J. Hell/Jeff London
June 17, 1999 -- Portland, Oregon (Satyricon)
By: Alex Steininger



In honor of Wicked Witch Records formation (owned by local record store owner/musician J. Hell), Satyricon decided to throw a party with two bands who are releasing 7"'s on Wicked Witch (Pete Krebs and No. 2) as well as their friends. A bill like this doesn't happen every day, so when it does, you either go or get left out in the cold. Myself, I chose to go, because it was a guaranteed night of good music, and why would I pass up that?

Opening the show was Jeff London with a backing band. Despite the fact that it was their third show together, Jeff transformed his soft, sensitive acoustic folk into pop-rock with a good amount of electric guitar to pick things up. Also adding a horn player, the band was able to bring Jeff's songs to life and make them stand out. I was so used to the Jeff London solo shows where it was just him and a guitar, it felt weird seeing him with a band. I must admit, at first it didn't strike me the way his record or solo shows do. But, then Jeff's lyrics and sensitive voice, with plenty of filled pauses before crushing you with a one word knock out lyrical attack, got to me and then I was completely was into what he was doing. I'll be looking forward to checking out more of these shows. I just wish I had caught the name of his band when he said it.

Next up was the woman of the evening, J. Hell, who rarely plays out. Instead of just occupying the stage with a guitar, J. Hell got a backing band for this gig featuring The Maroons' drummer Eric Bennes and Fernando's guitarist Dan Eccles. Leading the way herself with an acoustic twelve string, J. Hell poured out her heart and soul with some of the best folk/indie-rock I've heard in a long time. With the two backing musicians beside her, she was able to go from softer folk to more indie-rock oriented material song after song.

After her set, she left me with a puzzling question...will she record and release her own material on her label? She should, as she is quite the musician on top of being a great businesswoman. I haven't seen a frontwoman who rarely performs live that good in awhile (matter of fact, I can't recall the last time I've seen a musician who doesn't frequent the stage put on that good of a show). Let's just hope she does decide to record and release her material, because it would be a treat to hear more often.

Next up was Sean Croghan, a musician who often plays out a few times a month solo, but up until now considered his main priority his band, Jr. High. But with Jr. High's last show only six days previous to this one, this was a chance for Sean to start warming up to the idea of being a solo musician first and foremost. However, taking the stage drunk and shrugging it off as just another time to have fun, Sean opted to play few songs of his own, instead choosing to go with cover songs (with headliner Pete Krebs sitting in on a few). Though he is an amazingly talented musician who can bring you to tears with his own material as well as covers, it was disappointing to see him not focus on his own material now that he has made the choice to go solo. He wasn't on the top of his game, either, though his humor and good-natured personality saved him, as he was still able to put on a decent show that was entertaining and appreciated by the audience.

But the evening wasn't over yet; rather it was just beginning. Next up was No. 2, who several hours before the show inked a record deal with Olympia indie Chainsaw Records. Playing material off of their forthcoming debut (due out in the fall) as well as material off of their Wicked Witch single, frontman Neil Gust and company (bassist Gilly Ann Hanner and drummer Pauli Pulvarenti) put on a splendid show filled with plenty of their rock 'n' roll/pop sounds. Neil's lyrics are centered around super-catchy hooks and a magnificent rhythm section that brings each word to life. Always energetic and powerful live, their music is loud enough to bring the house down, but still infectious enough to run around in your head for hours after you've heard them perform live. Good thing they have an album coming out in the fall, otherwise some audience members might go mad trying to get the songs out of their heads before the next No. 2 live show.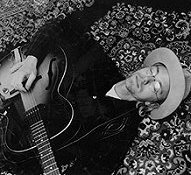 Closing out the night was Pete Krebs in a rare club performance around town without his new band, The Gossamer Wings. (Read some more In Music We Trust articles about Pete Krebs) Performing songs off of Pete Krebs and the Gossamer Wings' latest, SWEET ONA ROSE (Cavity Search Records), as well as material from previous solo records and his old band Hazel, Pete put the cap on a perfect night with some lyrically strong, highly melodic, sweet tunes that range from pop and folk to country. His attention to detail and supplying the complete package--music you can dance or move around too while still taking something from the lyrics--is undeniable. That is why he stands out as one of the strongest songwriters in the Northwest. Also always a good show, Pete gave the audience what they wanted when an encore was requested, and thus the night was absolutely golden. You couldn't have found anything remotely better to do on a Thursday night. Especially this night.