SHOW REVIEW: Rammstein
June 18, 1999 -- Portland, Oregon (Roseland Theatre)
By: Sonya Brown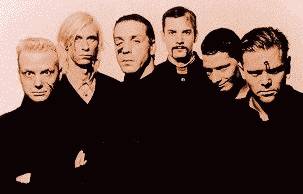 Rammstein. This band seems to generate such dreadful reviews in the media. I have yet to read one positive write-up in the press, yet I had an absolutely fabulous time at their June 18th performance at the Roseland. Apparently the negative press didn't sway too many others from attending, either, as this all-ages venue was packed wall to wall, floor to ceiling.

My reasons for enjoying the show were simple. Exotic theatrics mixed with electronics and hard, dark, driving music (and buff shirtless band dudes with foreign accents didn't hurt much, either). The performance opened with frontman Till Lindemann taking the stage engulfed in flame and wearing lazer goggles. Yes, he did almost the entire song ON FIRE..... and with the added lazer beams shooting from his eyes, the performance of the opening song "Rammstein" took on a life of it's own. Quite enough to get the mob scene on the floor of the Roseland whipped into a rampage, and I was discreetly thankful for my semi-safe (yet crowded) vantage point from the balcony.

If the pyrotechnics used on "Rammstein" weren't enough to convince you this band is quite insane, there were plenty other showcases of flames and sparks to keep the night hot. Lets see...... blazing guitarists, mic stands, drum kits..... fire shooting boots and gloves.... was there anything they didn't set ablaze? And if that weren't enough, the performance given during the song "Buck Dich" was quite entertaining. The leash & collar bound keyboarder, clad in what I like to call his "breakaway butt pants" (or Hinterwegbrechende Hosen?????) was the recipient of a rather bizarre scene involving Till sporting a rather large phallus. Till then sprays the audience in a spectacle that can best be described as hilarious and disturbing all at the same time. (Where DID he keep all that fluid, anyway???)

Some highlights for me were the performance of "Tier", "Hirate Mich", and of course the encore, which included their more commercial hit "Du Hast". My favorite moment, however, was their cover of the Depeche Mode song "Stripped" (which, by the way, can be found on the "For The Masses" CD - a compilation CD which features covers of Depeche Mode songs performed by various artists).

Rammstein performed many songs from their latest CD "Sehnsucht", including the title track, as well as "Bestrafe Mich" (punish me), which included visuals of Till doing a bit of "self-flogging". During the performance of "Engel", a female vocalist was brought onstage in an iron cage.

It was a very intense night; and Rammstein's bad press aside, I had a blazing good time!