ADZ
Odz 'n' Sodz (Triple X Records)
By: Alex Steininger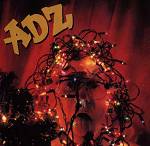 Originally starting as a spin-off band of the Adolescents, when three of their original members wanted to write new songs and rock the house in an old school way, The Adz were born. Now, eight years later, they've grown to be a treasure of the punk community. While working on a new album, the band has decided to release a collection of compilation tracks, singles, split-EP's, rare bonus tracks, live recordings, demos, and outtakes.

Opening with their theme song, "ADZ," the band quickly gets the blood rushing to your head with quick, furious melodies, razor sharp guitar leads, and a beer-fueled drive that doesn't let up. Not even for one minute. "Jackson" shows a different side of the band, as they cover Johnny Cash. Bar room rock, gutter punk, and country all befriend everyone on this one as the band downs a few too many beers, lets the tape recorder roll, and lets their music do the talking as they put a new meaning to the word cover.

"Communication Unbound," a live recording, probably doesn't do the band justice, because we all know recordings never do a live show justice. But, what the heck, it comes close. It definitely demonstrates this band is sweaty, beer-soaked, and wild live. Simply put, by hearing this number, I'm sure they deliver a great time to punk fans that are lucky enough to see them live.

"Red As Blood" just keeps the punk rock coming, as the band stays true to the old school punk groove, which is what seems to motivate them to make such back breaking punk rock. Closing with "Long Tall Sally," the band once again kicks out a wild groove with some action-packed punk 'n' roll. The song is rebellious and wild, with a youthful enthusiasm going for it, which is what rock 'n' roll is all about (and why it ever came about).

Here is some sweaty punk you'll enjoy, no doubt about it. The band keeps the intensity level high throughout, despite the fact it's a collection of numbers off of a lot of previous releases. It sounds good and powerful, so give it a listen. I'll give it a B+.