Dodge the Deathray
You Am, You Ain't (Refried Records)
By: Alex Steininger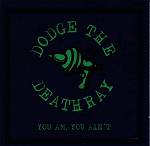 Falling into the trap that so many pop-punk bands do these days is Dodge the Deathray, a four-piece band out of Long Island. Young (they formed in the summer of 1999), their youthfulness is clearly documented on this six-song EP.

Not even making an impact, the songs role by one by one, leaving nothing but a craving for a new album. The songs don't even leave a bad taste in your mouth; they're too invisible to even do that. What you get is six songs that sound identical and a lackluster attempt at playing like they've got the energy and motivation to make things move.

That's not to say they're not playing their hearts out, but they're too young of a band, and too loose, to really concentrate any potential they may have. This disc falls on deaf ears. Once you've listened to it, you'll forget about it and watch it collect dust. I'll give it a D.